Top Stories
The DLSU-D Stallions from the College of Engineering Architecture and Technology brought pride to the country by becoming the top university in the Philippines for the Prototype Battery Electric Category of the Shell Eco-Marathon 2018.
---
Students from DLSU-D's Broadcast Journalism program were recently crowned the champions in Knowledge Channel's Inter Collegiate Mini Documentary Competition
---
DLSU-D welcomes its new batch of graduates in a memorable event held at the Ugnayang La Salle.
---
Psychological drama "Elena," written and directed by DLSU-D Communications alum April John Niebres has been selected as one of the entries in the 2018 Cefalù Film Festival in Sicily.
---
De La Salle University – Dasmariñas joins the rest of the Philippine Lasallian Family in greeting Br. Armin Luistro FSC – President of De La Salle Philippines - for being named one of the Three Outstanding Filipinos for 2017 by this year's TOFIL Board of Judges, a recognition given by the Junior Chamber International (JCI) Senate Philippines.
---
DLSU-D recenty scored another 100 percent passing rate for the September 2017 Mechanical Engineering Licensure Examination.
---
The Asia Pacific Institute for Events Management (APIEM) recently recognized De La Salle University Dasmarinas- College of Tourism and Hospitality Management as an International Center of Excellence.
---
De La Salle University-Dasmarinas posted yet another 100 percent passing rate at the September 2017 Registered Electrical Engineering Examinations. The University also posted a similar feat for the Master Electrician Licensure Exams when its lone taker passed the test.
---
De La Salle University-Dasmarinas is the top performing school in the recently concluded Sanitary Engineering board exams.
---
The College of Education Graduate Studies has posted a 100 percent passing rate in the recently concluded Licensure Exam for Registered Guidance Counselors.
---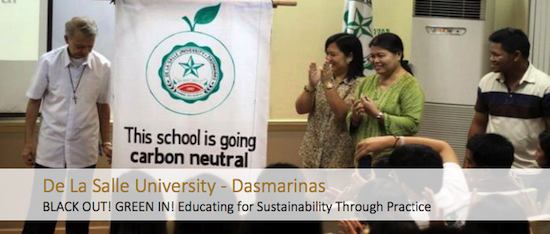 De La Salle University-Dasmariňas (DLSU-D) has been featured for the 3rd straight year as the lone Philippine university and one of the few Asian universities presented by the International Sustainable Campus Network (ISCN) and Global Universities Leadership Forum (GULF) at the World Economic Forum.
See more at:
http://www.goodnewspilipinas.com/dlsu-d-lone-phl-school-global-sustainable-network/#sthash.H3L5bE4o.dpuf
---
One of the objectives of the Vocations Ministry Office is to promote De La Salle Brothers' vocation to young men. This promotion of the Brothers' vocation is not just limited to those who have explicitly indicated interest in the religious life but even to those who are in search of meaning and purpose. The Brothers' Community Live-In Program (BLIP) is a rare experience that gives young men a glimpse of the life of a De La Salle Brother, an opportunity to build long lasting relationships with the Brothers, and expose the participants more to the Lasallian mission. It also aims to help young men to discover their meaning and purpose in life.
---
---
---