Top Stories
De La Salle University-Dasmarinas posted yet another 100 percent passing rate at the September 2017 Registered Electrical Engineering Examinations. The University also posted a similar feat for the Master Electrician Licensure Exams when its lone taker passed the test.
---
Barely a year after finishing his PhD degree in Environmental Studies, Dr. Arnold B. Fonollera, Associate Professor of Biology in the Biological Sciences Department passed the recently concluded Licensure Examination in Environmental Planning held by the Professional Regulations Commission.
---
De La Salle University-Dasmarinas is the top performing school in the recently concluded Sanitary Engineering board exams.
---
The College of Education Graduate Studies has posted a 100 percent passing rate in the recently concluded Licensure Exam for Registered Guidance Counselors.
---
DLSU-D students from the College of Tourism and Hospitality Management (CTHM) proved their skills against other competing schools at the prestigious Manila Food and Beverage Expo 2017. CTHM students ruled in three events and bagged the silver and bronze prize for two others.
---
Students from the College of Business Administration and Accountancy have been invited to join the Human Differences global project. This student-centered project is aimed at promoting gender equality and building bridges instead of walls.
---
DLSU-D student Maria Hannah D. Asuncion bagged the first prize at the Extemporaneous Speaking Contest at the recently concluded 2017 Junior Teachers' Congress. The event was held at Adventist University of the Philippines, Silang, Cavite last March 24.
---
Psychology students from DLSU-D Karla Kristine P. Bay, Jovie Ann A. Gabin and Allana Joyce B. S
asotona recently won Best Thesis at the Psynergy 11. The paper bested 187 undergraduate theses in Psychology from 22 participating universities across the country.
---
---
Relive the best moments of the triumphant milestone of DLSU-D graduates during the 39th commencement exercises held last February.
---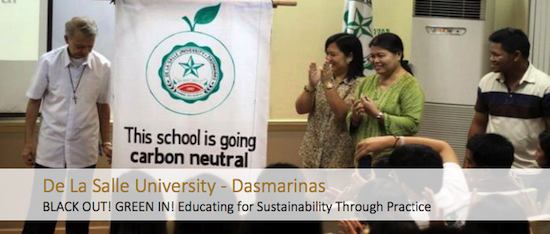 De La Salle University-Dasmariňas (DLSU-D) has been featured for the 3 rd straight year as the lone Philippine university and one of the few Asian universities presented by the International Sustainable Campus Network (ISCN) and Global Universities Leadership Forum (GULF) at the World Economic Forum.
See more at:
http://www.goodnewspilipinas.com/dlsu-d-lone-phl-school-global-sustainable-network/#sthash.H3L5bE4o.dpuf
---
The College of Business Administration and Accountancy (CBAA) extends its warmest congratulations to its latest batch of Certified Public Accountants who passed their board exams held this November.
---
De La Salle University-Dasmarinas alum Hexina Espiritu Madolid recently topped passers of the Electronics Technician Licensure Examination given by the Professional Regulation Commission (PRC).
---
Lasallian pride shone bright during the recent 3rd National Criminology Students Congress held from August 19–21 at the Capitol University in Cagayan de Oro City.
---
To all Lasallians all over the world!
PLEASE VIEW AND SHARE the video of Jayson D. Villagomez, ABCOM alumnus and a student of Master of Arts in English as a Second Language of CLAC- DLSU-D, made it as a finalist with his video entitled "Green Your Choice, Green Your Lifestyle" which featured his advocacy to encourage people to make informed decisions and better lifestyle choice.
Guys, do WATCH this climate change video, and HELP a FILIPINO win in the Global Youth Video Competition, part of UN Climate Change Conference in Marrakech, Morocco.
One View = One Point!
Please share the video so that everyone know about it. https://www.youtube.com/watch?v=iBh2_7ETmr0 We can help him by raising views on his video ( 1 view is equivalent to 1 vote) found in the link
---
De La Salle University-Dasmariñas Criminology alum Harold T. Sarita placed second in the list of passers for the Criminologist Licensure Examinations held last April.
---
Congratulations to #DLSUD for being recognized as Center of Development in Biology. Animo!
---
DLSU-D alum Riza S. Pepito recently made it to the list of topnotchers for the March 2016 Licensure Examination for Teachers.
---
Congratulations to #DLSUD for being recognized as Center of Development in Information Technology. Animo!
---
Congratulations to Electronics Engineering Department for being designated as Center of Development for 2016-2018 by the Commission on Higher Education.
---
The De La Salle University-Dasmariñas College of Education (CoED) has been designated as one of the Centers of Excellence (CoE) for Teacher Education Program by the Commission on Higher Education (CHEd).
---
Congratulations Class of 2016!
---
De La Salle University-Dasmariñas has improved its ranking to 50 out of 407 invited universities in the latest GreenMetric Ranking of World Universities.
---
One of the objectives of the Vocations Ministry Office is to promote De La Salle Brothers' vocation to young men. This promotion of the Brot
---
hers' vocation is not just limited to those who have explicitly indicated interest in the religious life but even to those who are in search of meaning and purpose. The Brothers' Community Live-In Program (BLIP) is a rare experience that gives young men a glimpse of the life of a De La Salle Brother, an opportunity to build long lasting relationships with the Brothers, and expose the participants more to the Lasallian mission. It also aims to help young men to discover their meaning and purpose in life.
---
---
---