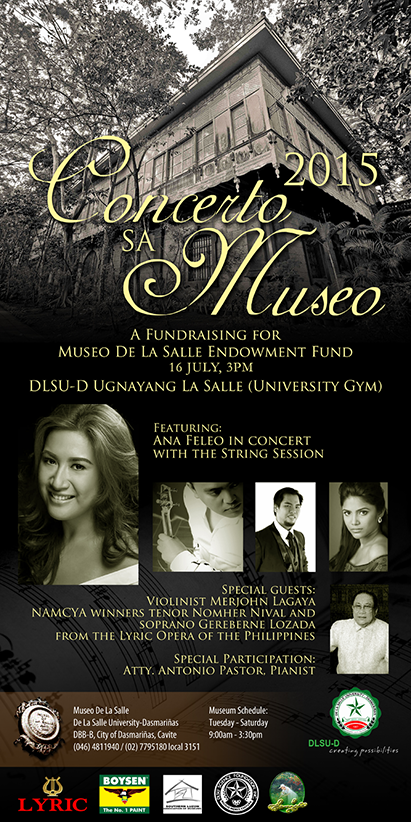 TAs part of the University's annual program to promote and preserve Philippine classical culture for the youth, as well as commemorate DLSU-D founder, Brother Andrew Gonzalez, FSC, the Museo De La Salle will host the annual Concerto sa Museo program.
The program provides an opportunity for the youth to be exposed to classical music, develop appreciation for the arts, and hopefully inspire a next generation of patrons and advocates for Philippine arts and culture.
This year's Concerto sa Museo features Juilliard School of Music alumna, lyric soprano Ana Guillen Feleo Soprano with The String Session, Violinist Merjohn Lagaya, NAMCYA winners tenor Nomher Nival and soprano Gereberne Lozada from the Lyric Opera of the Philippines. Pianist and art philanthropist Atty Antonio Pastor will be a special guest. The concert is slated on July 16, 2015, 3pm at the DLSU-D Ugnayang La Salle (University Gym).
The event aims to provide some 3,000 youth an opportunity to experience, appreciate, and enjoy Philippine and International classical music. Further, with the looming effects on tertiary institutions of the new K12 program by 2016, which may also impact museum resources, this year's Concerto sa Museo aims to build up the Museo De La Salle Endowment Fund in order to ensure that our educational and cultural missions will continue amidst the K12 challenges.