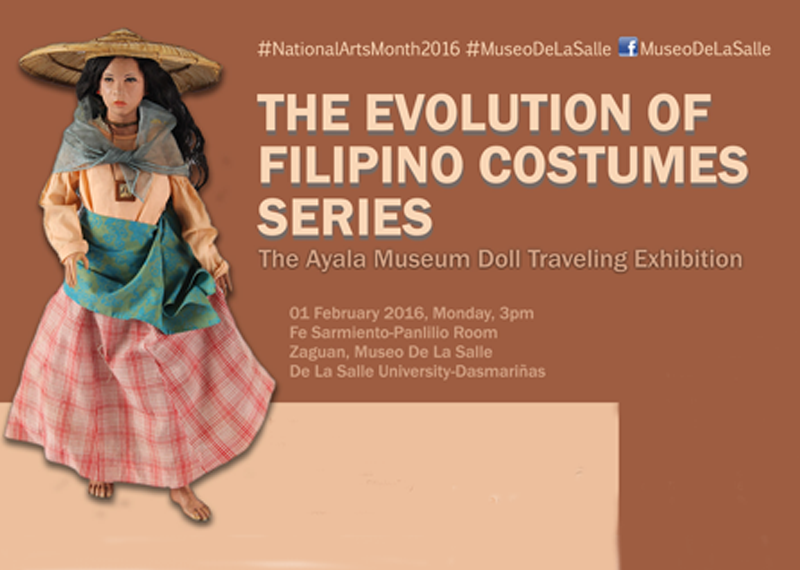 In celebration of the National Arts Month and Lasallian Festival this February, the Museo De La Salle in partnership with the Ayala Museum, will be bringing to DLSU-D the exhibition The Evolution of Filipino Costumes Series: The Ayala Museum Dolls Travelling Exhibition. The exhibition will be opened on February 1, 2016, Monday, 3 pm, and will run until 26 March 2016.
Totalling 69 dolls representing significant costumes by selected cultural groups in the country, covering the major Islands Luzon, Visayas, and Mindanao, the Ayala Museum Doll Collection is one of the original permanent exhibitions housed in the old Ayala Museum when it opened in 1974. Each doll was laboriously created in the scale 1:4 to highlight and dramatize the distinctive features of these subcultures, as represented by their set of costumes. Using the very similar clothing materials and body adornments that were worn by the people they represent, each doll is made out of wood carved by Mar Edjawan from Paete, Laguna.
The traveling exhibition features 12 of these dolls that represent subcultures in the country. These set has undergone museum restoration to bring each doll back to its original physical and aesthetic state for better appreciation.
For inquiries, contact (046) 4811940 or local 3151 for confirmation.