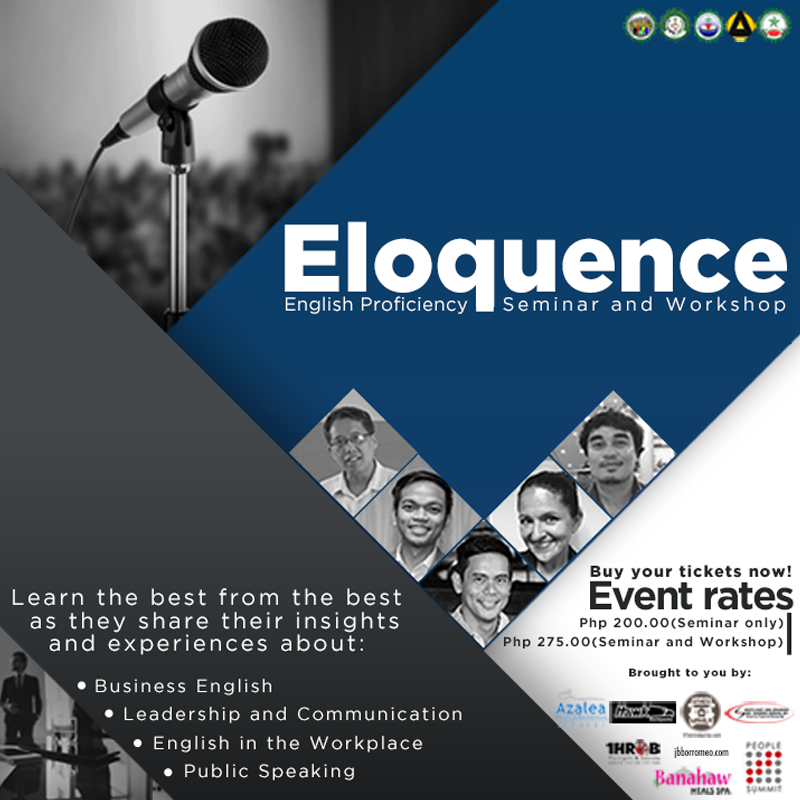 Pursuant to the advocacy of the CBAA Administration to appraise its campaign for English proficiency, the CBAASC brings you ELOQUENCE: English Proficiency Seminar and Workshop on November 21-22, 2016 from 8 am to 12 pm.
This aims to help the Lasallian students gain a deep understanding on the significance of English proficiency in the workplace especially in a global perspective.
The seminar draws from the best practices of great communication experts on the role of English proficiency in communicating and expressing your ideas.
Learn the best from the best as they share their insights and experiences about:
Business English
Leadership and Communication
English in the Workplace
Public Speaking
The first day is the seminar at the Ugnayang La Salle from 8am-12pm. Part of this seminar is the orientation for TOEIC from HOPKINS to discuss about the benefits of taking the TOEIC EXAM for the 2nd year and 4th year students.
On the 2
nd
day, there will be a workshop at the CTHM Student Lounge from 8am-12pm also. Ticket Prices are as follows:
Seminar for the required CBAA 2nd yr and 4th year class: 200Php
Seminar and Workshop for required and non required: 275Php
Seminar Regular Rate:250Php
The speakers for this seminar include:
Mr. Antonio Jose "Tonipet" Gaba
GMA News and Public Affairs
Mr. Jaime Borromeo II
Corporate Trainer, Professor at DLSU, Motivational Speaker and Author
Mr. Roderick Motril Aguirre
Professor at DLSU-D, Language Consultant(On Call), Resource Speaker
Ms. Rosa Garcia – Inciong
Department Manager at Capital One Philippines
Mr. Raul de la Vega
Southeast Asian Speakers and Trainer Bureau Inc.will conduct the workshop.