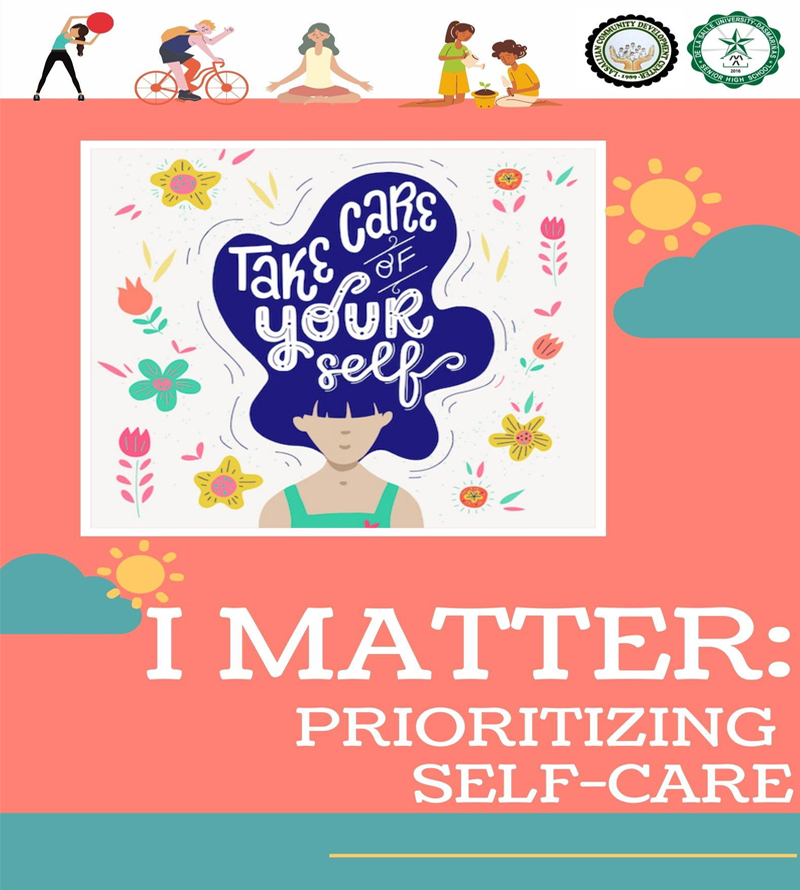 De La Salle University-Dasmariñas recently rolled out its Care Centered Model Online Learning program that aims to lead a more inclusive and humanized learning experience for Lasallian learners.
In support of this program, Lasallian Community Development Center (LCDC), in partnership with the High School, facilitates a roster of Self-Care activities the students.
The Self-Care Module titled "I Matter: Prioritizing Self Care" is a series of mini- webinars that offers different self-care activities for high school students. The various activities prepared for them will help enhance their overall well-being by reducing stress, balancing personal and school life, and care for physical and psychological health.
Introduction to Self- Care
This is a webinar that aims to discuss the importance, benefits and type or forms of self-care. MS teams meeting room will be used because only selected and limited participants will be expected to join. It will also be recorded and uploaded to the Schoolbook to be accessed by all high school students.
October 2, 2020
Speaker: Dr. Christoper F. Sasot Professor, PUP Manila

"ANIMO GREEN THUMB: Growing your Own Greens"

"

This activity aims to engage high school students to cultivate plants in their backyards, learn new skills, and have fun, while tending plants and growing their own food.
October 29, 2020
Speakers: Mr. Gio Paolo Espital Community Engagement Officer, Good Food Community / President/Founder, Elements of Tomorrow and Mr. Marlon Pareja, Vice Principal for Academics and Research, DLSU-D HS/ Climate Reality Leader
"Eco Crafts: From Scrap to Creative Arts"
The activity aims to give students opportunities to explore creative ideas and concepts by making something from scrap materials or anything that is readily available in their homes. Students are tasked to produce creative crafts from their choice from recyclable materials. They can either replicate crafts from books and social media or create original ones from their own ideas.
February 22-27, 2021
Create original infographics
Using the power of creativity and digital technology, the activity aims to teach the students to create unique, striking and engaging promotional materials. Through this activity, students could apply what they have learned in making creative reports and assignments for their respective courses or subjects.
February 22-27, 2021
Disaster Preparedness: Fire Prevention Month
The activity focuses on building the capacities of the students and their families to promote safety consciousness and knowledge about fire prevention.
March 22-27, 2021
Women's Right Education: State of Women in the Time of Pandemic Forum
This acivity seeks to promote the protection of women's rights and encourage participation in women's right advocacies in celebration of Women's Month
March 22-27, 2021
Lasallian Volunteerism
This activity aims to empower students through volunteerism by discovering and appreciating their individual uniqueness and giftedness, building trust in oneself and and others and, promoting better understanding on the different relationships and responsibilities one has to self, others, society, the environment, and God.
May 17-22, 2021
Good Governance and Good Citizenship
The event seeks to discuss role of citizens (as a Student, Lasallian, and Citizen) in good governance as well as encourage participation in good governance
May 17-22, 2021