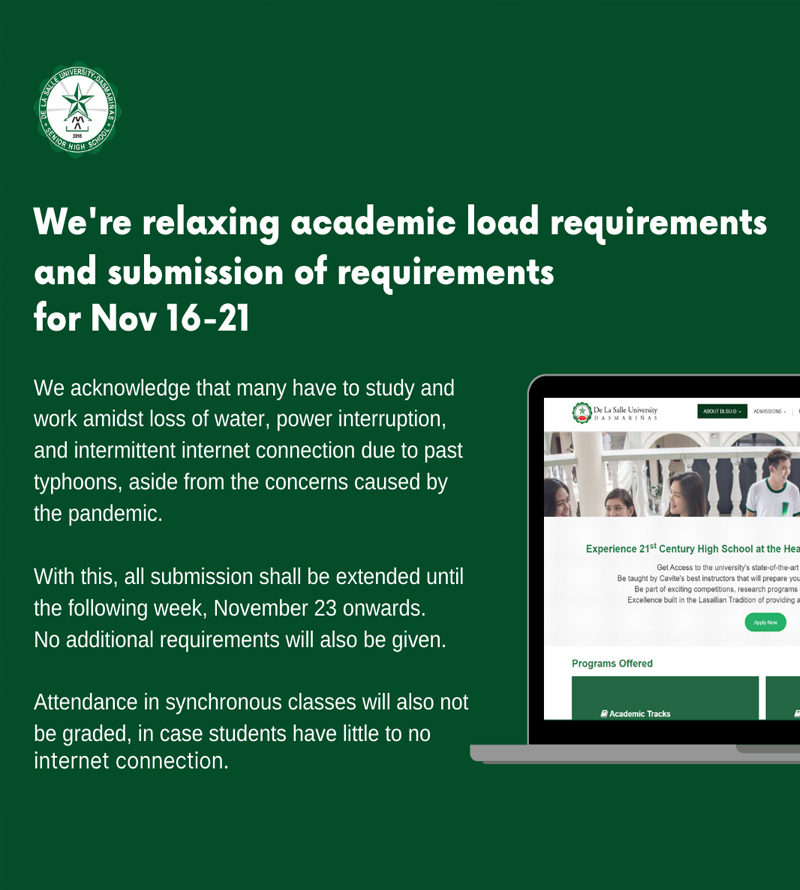 DLSU-D SHS Vice Principal for Academics and Research Marlon Pareja has released a memoramdum on the relaxation of academic requirements for the week of November 16-21, 2020.
"Our mission to provide a human and Christian education takes paramount importance over our task to fulfill our scheduled activities. We acknowledge that many of our students, teachers, staff have to study and work amidst the loss of water, power interruption and intermittent internet connection due to the past typhoons. Aside from the need to contend with concerns caused by the pandemic," he said.
With this instruction, the following will be observed.
All submission deadlines shall be extended until the following week (Nov 23 onwards). Likewise, formative assessments can be given in lieu of graded assessments for this week.
The rescheduling of submission of requirements shall not mean providing added requirements to the student's load.
Scheduled synchronous sessions this week can be rescheduled or be replaced by recorded lectures which should be uploaded in the schoolbook. In case of synchronous sessions, attendance checking should not be graded but rather be used to interact or check students well-being.
Homeroom advisers are requested to check their respective classes. Use the time to keep tabs of our students and refer those with immediate concerns to ovpassa.
Provide more time to students to work on their other unattended requirements. Adjustments in our grading schemes can be made.
"Our mission is defined and grows through our shared experience, reflection and response with the greater community where we belong. Let us recognize the present inequalities that are aggravated by these disasters and use it to teach our students to see things from the perspectives of understanding and empathy," Pareja added.