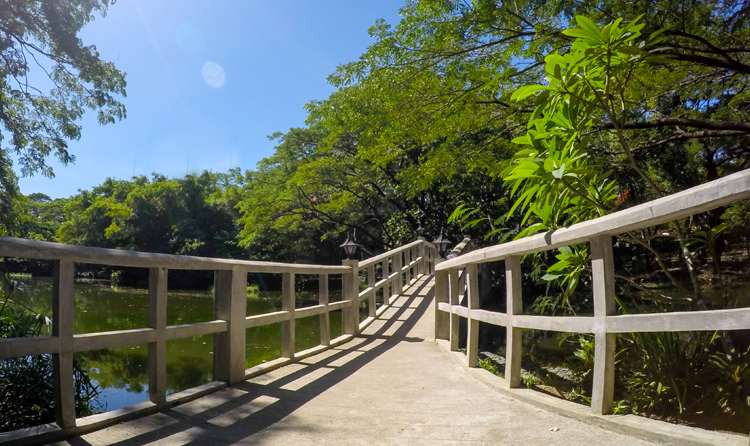 De La Salle University-Dasmariñas is the top Philippine university in promoting green practices and adopting a sustainable lifestyle, earning accolades for its plans and programs.
Among the main thrusts of the University in its green endeavor was established way back in 2001 with the establishment of Environmental Resource Management Center (ERMAC), an office tasked to initiate, implement, supervise and evaluate DLSU-D's programs and policies and its compliance to national government standards in relation to environmental management and safety, pollution control and disaster risk reduction.
Since then, the University has come up with sustainable plans and programs to promote green initiatives. Among these programs is the Anvil Award winning Black Out! Green In! campaign. Implemented in 2011, the endeavor is a ten-year carbon emission reduction program to respond to the impacts of climate change, where the Philippines is considered to be one of the most vulnerable in the world.
With this program, black practices have been eliminated in the University. Single use plastics and plastic drinking straws are prohibited within campus, minimizing the University's contributions to plastic waste. The University also strictly implements solid waste segregation in keeping with RA 9003 also known as the Ecological Waste Management Act of 2000. Canteen concessionaires also abide by Cafeteria Environmental Monitoring and Food Safety practices such as Clean as You Go and food waste management.
Apart from this program, the Univeristy is also implementing policies such as the DLSU-D Environment Policy, the Green Day Policy, the No Idling Policy to reduce carbon emissions from motor vehicles, the Solid Waste Management Program, Paper Reduction Program, and Energy Resource Efficiency Program which is funded by a 20 percent environment fee add-on to sticker applications. These funds are used for the maintenance of trees in campus which serve as the home of resident, endemic and even vulnerable species of birds.
DLSU-D also committed to be part of De La Salle Philippines' Project Carbon Neutral (PCN) which checks and balances the school's contribution to global warming by introducing offsets and mitigation practices. In line with this, a No Idling of Motor Vehicles policy was implemented in 2012 which prohibits parked vehicles to have idling motor engines for more than five minutes to minimize carbon emissions.
The University also joined DLSP as a member of the One Million Trees and Beyond and the Facilities and Environmental Programs Management Group. As such, the ERMAC partners with students, student organizations and employees in conducting tree planting and field monitoring of trees planted in coastal areas. Even exchange students are encouraged to participate in the endeavor as part of their student experience in DLSU-D.
Apart from being recognized by the Department of Environment and Natural Resources and the Department of Education as the Most Sustainable and Eco-Friendly School (2001) and being granted with a Dark Green status by the Philippine Network of Educators for the Environment in 2009, the University has moved up in the ranks and was recognized in the World University Rankings conducted by Universitas Indonesia's Green Metric as the Top Philippine School in terms of sustainability. Since it entered the list in 2013, DLSU-D has established itself as the 24th in Asia and the 94th in the world out of 719 universities from 81 countries included in the assessment.
DLSU-D also signed a declaration in 2018 to adopt the Zero Waste Lifestyle with other universities and also participated in the Global Catholic Climate Movement (GCCM Pilipinas)
Through teaching by example, DLSU-D also boasts of a hidden curriculum for green practices – incorporating sustainable practices in school so that these may also be adopted by the students, faculty and staff in their own homes and communities.
"As the creation of a green and sustainable university where the experience of God is lives and shared is the top agenda of our Brother President, we are fully committed to helping shape an environmentally sustainable community and society," ERMAC Director Joseph Dinglasan said.