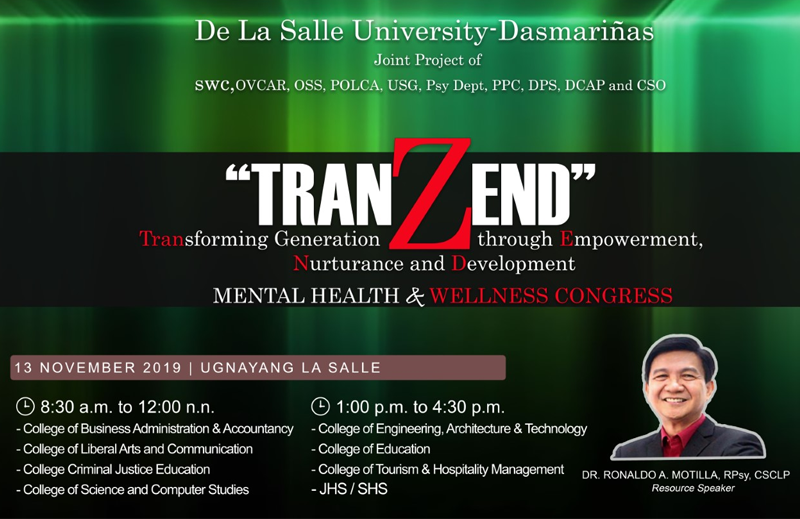 With mental health and wellness as its priority, the Student Wellness Center will be leading a congress entitled, TranZend: Transforming Generation Z through Empowerment, Nurturance, and Development on November 13, 2019, from 9:00 am to 5:00 pm at Ugnayang La Salle.
The congress aims to gather all Lasallian freshmen to disseminate information and knowledge on the different ways of taking care of one's wellness and mental health. Through the congress, members of Generation Z can transform and transcend themselves in the face of life's challenges, becoming more resilient individuals.
The congress specifically aims to achieve the following:
To understand the meaning of mental health and to identify signs and symptoms of individuals needing help;
To emphasize better and healthier ways of coping and handling oneself in the face of challenges, thus, transcending into the better version of themselves;
To encourage everyone to take part in promoting mental health and wellness in the university by becoming aware, desiring to help, and showing kindness to others.
All freshmen are required to attend the event on November 13, 2019, from 9:00 a.m. to 12 noon (CLAC, CBAA, CCJE, CSCS) and 1:00 p.m. to 4:00 p.m. (JHS/SHS, CTHM, COEd, CEAT).
The event is held in partnership with the Office of Vice Chancellor for Academics and Research (VCAR), Office of Student Services (OSS), Parents Organization of La Salle Cavite (POLCA), University Student Government (USG), Psychology Department, Psychology Program Council, DLSU-D Psychology Society, Center for Applied Psychology and Council of Student Organizations in the campaign for a healthy and WellThy university.