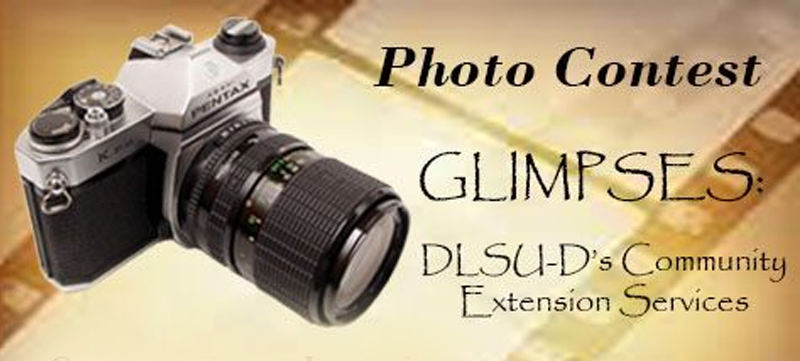 The Lasallian Community Development Center (LCDC) recently launched GLIMPSES: DLSU-D's Community Extension Services, an online photo contest of inspiring stories and milestones of Lasallian mission in action through social media (via Facebook platform).
The event seeks produce, promote, and share the images to showcase the different extension programs and projects of the University. Photos selected will also be included in the 30 Years Anniversary compilation of LCDC.
Photo Contest Mechanics:
Contest is open to all students, employees, and alumni of DLSU-D.
A contestant is allowed is to submit only one photo entry.
Photo entries should be posted in the comment section below the announcement of Glimpses at Lcdc Dlsu-d Facebook.
Entries should use the hashtag #LCDC@30, and photos should include a title and short description of the photo (include the year and location where the photo was taken).
Photo must show the DLSU-D outreach and extension services in action.
Photo must be taken from year 1989-2018.
The photo to be submitted must be owned by the contestant and not taken from the internet.
The entry must be digital or in JPEG format.
Deadline of submission is on or before October 30, 2019. Three winners will be chosen, and each will receive special prizes. Announcement of winners will be posted through the official Facebook Page of LCDC.
Winners of the contest will be determined based on the number of likes and comments and rating of the LCDC panel based on the set of criteria of the contest.
First Prize will receive the amount of P1, 500. 00, second prize will receive P 1, 000. 00 and third prize will receive P 500. 00.
The contest will start on September 3, 2019 and will end on October 30, 2019.
Announcement of winners will be on November 2019 during the Students' Week Celebration.
LCDC will also give 3 special awards for the photo entry. They will receive special prizes.
Criteria for judging
Number of likes:
20%
Expression of theme:
40%
Visual impact:
40%
Total
100%