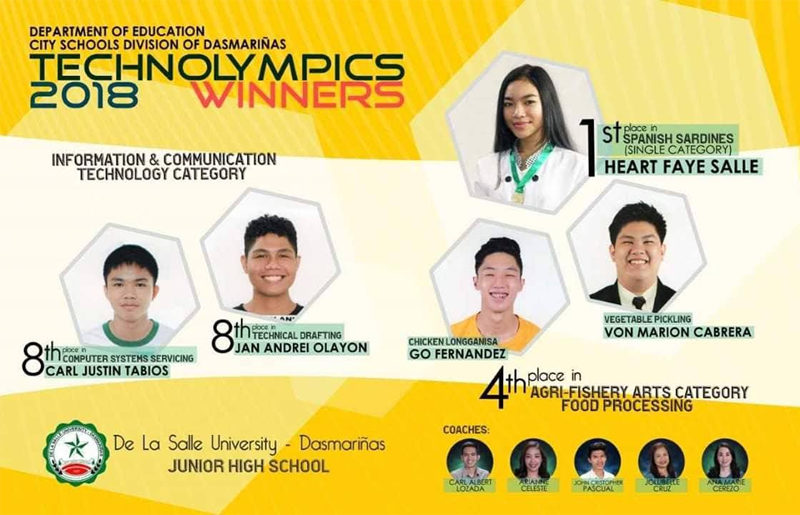 Junior High students from De La Salle University-Dasmariñas impressed anew with their victories at the recently concluded Technolympics 2018 Competition held by the City Schools Division of Dasmariñas. The competition was held last September 20 at the Paliparan National High School.
Heart Faye Salle's Spanish sardines earned her a first place finish in the individual category of Agri-Fishery Arts. She was coached by John Cristopher V. Pascual, LPT.
Meanwhile, her teammates bagged 4th place in the Agri-Fishery Arts Category including Von Marion Cabrera for vegetable pickling and Go Fernandez, who prepared chicken longganiza. Cabrera was coached by Ana Marie R. Cerezo, LPT, while Fernandez was mentored by Jollibelle P. Cruz, LPT.
For the Information & Communication Technology Category, Jan Andrei Olayon (Technical Drafting) and Carl Justin Tabios (Computer Systems Servicing) both took eighth place. They were coached by Ariane May Celeste, LPT and Carl Albert Lozada, LPT.
The victories posted by the students came at the heels of 198 JHS students earning NC II certificates from TESDA for their competency in Cookery, Technical Drafting and Computer Systems Servicing.
Animo La Salle!