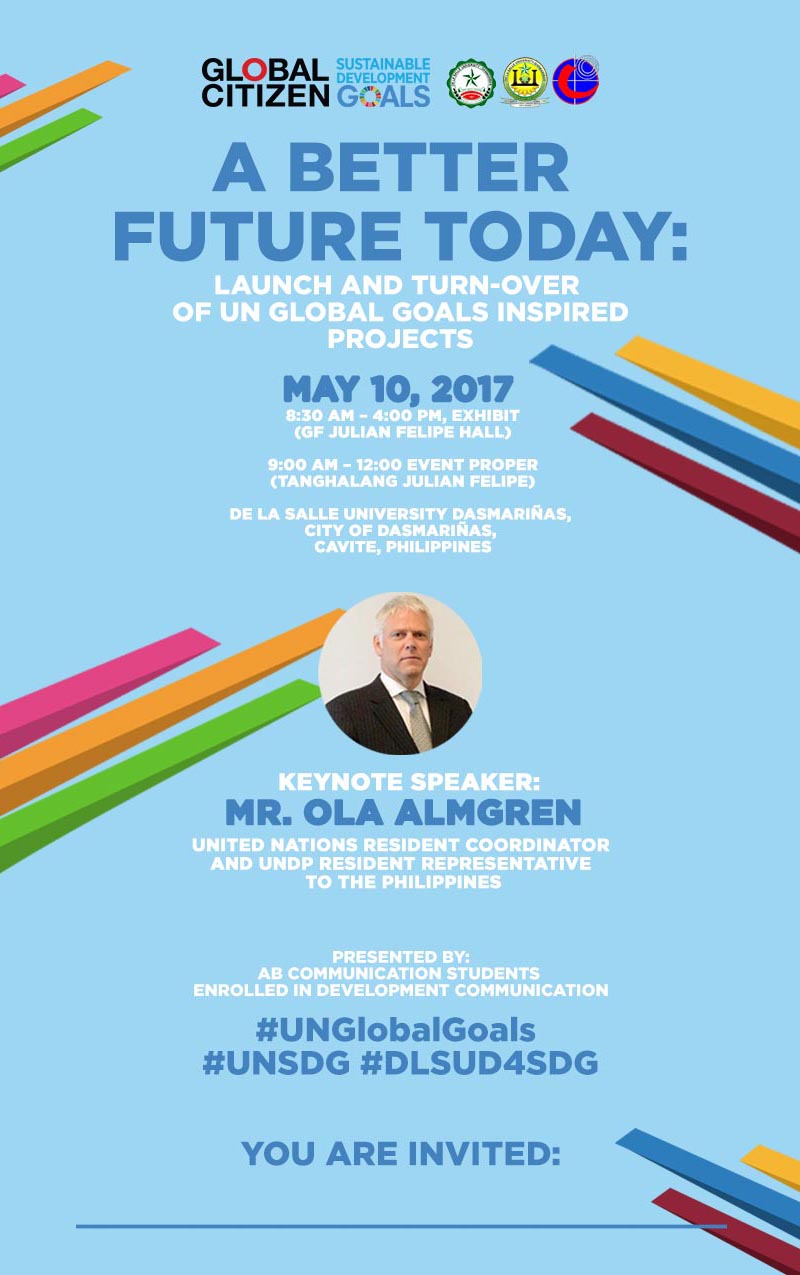 In its effort to raise public awareness and contribute to citizen engagement on the United Nations Sustainable Development Goals (SDG), AB Communication students of De La Salle University- Dasmariñas (DLSU-D) will launch various information, education and communication materials inspired by the SDGs in an event called "A Better Future Today" on May 10, 2017 at the DLSU-D campus in Cavite.
The event will begin with the opening of an exhibition of their SDG inspired works at 8:30 am at the ground floor of the Julian Felipe Hall lobby and will culminate with a program to be held at the Tanghalang Julian Felipe (mini auditorium) from 9:00 am to 12:00 noon.
The student projects include the following: advocacy videos on the UN SDGs in three different languages (Ilocano, Cebuano and Chavacano); original compositions and music videos inspired by the SDGs, educational board games, a story book, a poster set and post cards among others. The projects were produced by the students for their Development Communication (DevCom) subject.
According to their subject teacher, Prof. Marco M. Polo, "The UN Global Goals is a timely and relevant undertaking for it provides a framework on how to address various development challenges. As a shared advocacy, my students and I saw the need and opportunity to utilize their talents and skills for a meaningful endeavor. As a discipline, DevCom tackles how media and communication can be used as a tool for social and sustainable development."
The student outputs will be turned-over to the United Nations Team in the Philippines as well as to select offices and partners of DLSU-D. The projects will also be released via various social media platforms.
Delivering the keynote message in the forum is Mr. Ola Almgren, the UN Resident Coordinator and UNDP Resident Representative.
On September 25, 2015, 194 world leaders agreed to adopt the 17 Global Goals for Sustainable Development. If these Goals are completed, it would mean an end to extreme poverty, inequality and climate change by 2030. For more information visit: www.globalgoals.org or www.undp.org.
Click to view A Better Future Today Program