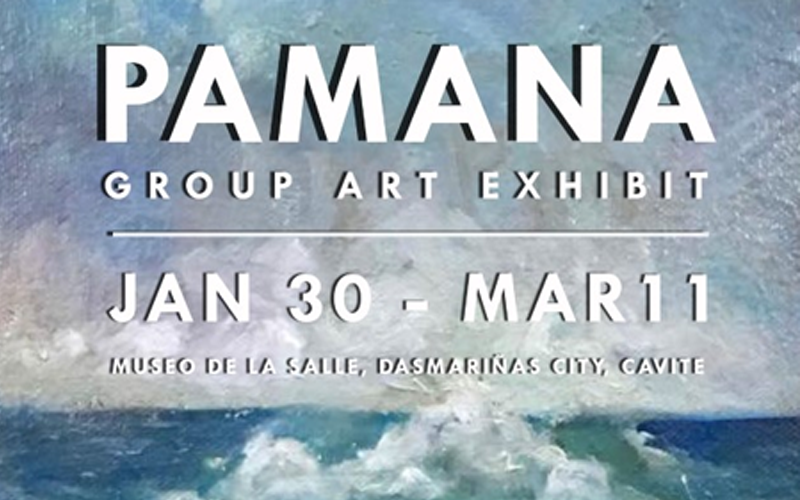 In celebration of the National Arts Month, Museo De La Salle presents Pamana, an art exhibit by 25 Cavite-based artists that will run from January 30 to March 11.
"Pamana" (heritage) looks into the wisdom of the past as a step towards healing current societal problems. The exhibit encourages the artists and the viewers to return to their roots and rediscover their rich heritage.
The exhibit is a collaboration between local artists and Museo De La Salle, a lifestyle museum that preserves surviving pieces of material culture from 19th century Philippines. The Museo is located in the De La Salle University – Dasmariñas, Cavite campus.
Participating artists in Pamana include Wilfredo Alicdan, Bokeng Ancanan, Melbourne Aquino, Aiya Balingit, Bobby Balingit, Lawrence Borsoto, Rene Cuvos, Johannes Dayrit, Jose Estimo, Matthius Garcia, Alee Garibay, Winston Hernandez, Ryan Jara, Maribel Magpoc, Lui Manaig, Dandella Mari, Mos Kito, Eric Presado, Roy Rosatase, Lirio Salvador, Mary Ann Salvador, Heidi Sarno, Ciron Señeres, and Cristy Tamayo-Ancanan. The exhibition will be accompanied by an Art Talk series, with speakers such as Winston Hernandez, Richard Buxani, Bobby Balingit, Aya Balingit, Lui Manaig, and the street art group CVTY Collective.
Pamana will open on January 30 with musical performances by Bobby Balingit and the Atomic Soul, and an art performance by Winston Hernandez. Buxani's outdoor art installation called Fragility will accompany the Pamana exhibit.
Pamana also kicks off the month-long arts festival "Paghilom," a local initiative led by artists, theologians and cultural workers for meaningful art production that inspires a renewal/healing of the community.
The "Paghilom Project" is the first arts festival in Cavite and includes a 3-day camp event and two art exhibits, "Pamana" and "Sintomas." The latter is a joint project with SM Malls in Cavite and will open this February 6 at SM Dasmariñas.
The "Paghilom Festival" will culminate in the 3-day camp on February 9 to 11 at the Union Theological Seminary in Dasmariñas, Cavite. This festival is supported by the Provincial Government of Cavite, the Dasmariñas City Government, and the Department of Tourism.
For inquiries, call Museo De La Salle at 046 4811940 or 02-7715180 local 3151. Email: museodelasalle@dlsud.edu.ph.