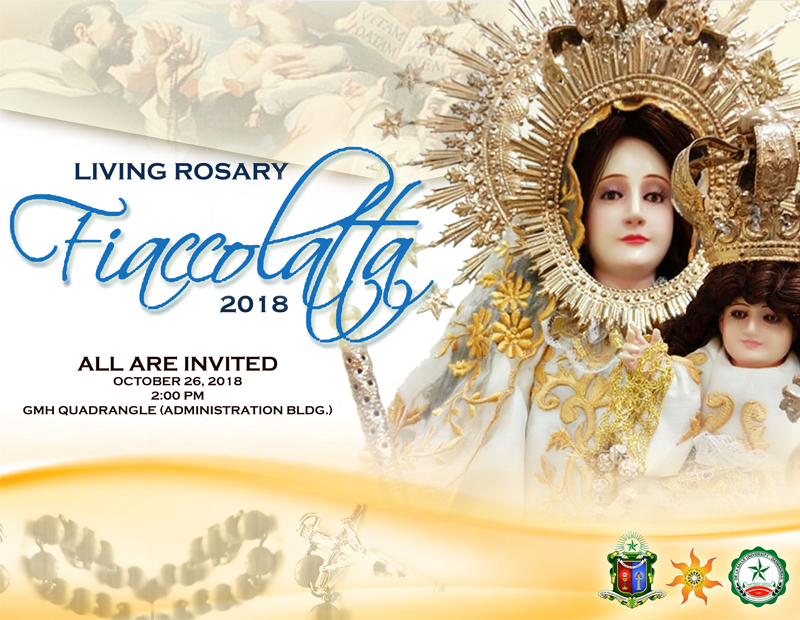 The Campus Ministry Office, Office of the University Chaplain, and the University Student Government will organize a Living Rosary in honor of the Blessed Mother on October 26, 2018, from 2 to 6 pm. This event with the theme: "Mary: Model of Discipleship," aims to gather all the sectors of the academic community in order to reflect on Mary's role in the story of salvation and how she faithfully responded to the call of the Lord at every step of her journey.
The living rosary shall be done in "fiaccolatta" style as the community gathers in a torchlight procession and the mysteries of the Rosary are depicted in different altars or stations. The mysteries to be used shall be taken from all four mysteries (joyful, luminous, sorrowful, and glorious) specifically those considered as "Marian moments" that depict our Blessed Mother as the model of discipleship. Intentions and reflections for each moment or mystery shall be based on current issues in our world today, which will be done in the form of presentation. The praying of the 6-decade Lasallian rosary shall be used for this community prayer.
To maximize the participation of the community, the mysteries shall be assigned to the different colleges and clustered offices and units near the colleges. The reflection presentations shall be assigned to the different performing arts groups.