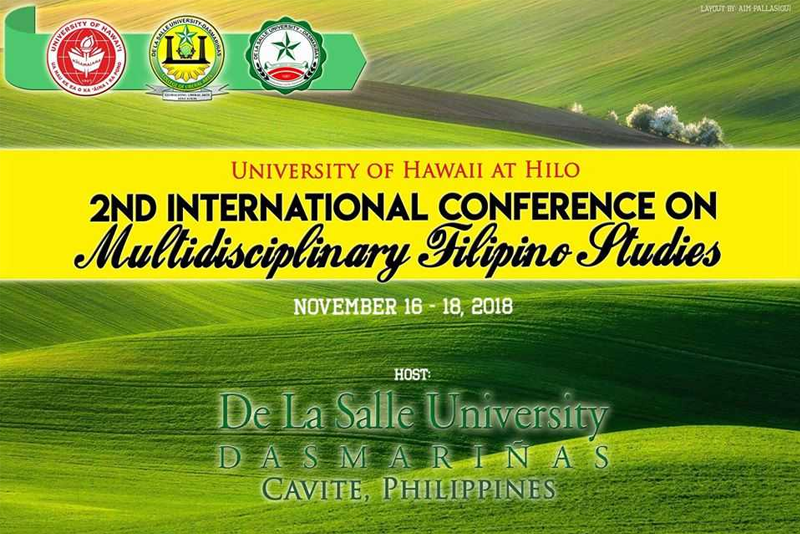 De La Salle University-Dasmariñas will be hosting the 2nd International Conference on Multidisciplinary Filipino Studies from November 16-18, 2018. This three-day international conference is one of the major scholarly activities designed by the Filipino Studies Program at the University of Hawaii at Hilo in the United States of America.
Aimed towards the theory and praxis of its multidisciplinary nature, the Filipino Studies Program has envisioned for this international conference the coming together of the students, teachers, scholars, academicians, administrators, policy makers, and other interested parties.
This year's international conference has four major tracks, including:
Agricultural, Health, and Natural Sciences
Humanities (Language, Linguistics, Literature)
Education and Social Sciences
Area Studies, Migration, and Diaspora
Regular Registration
Deadline: From September 1, 2018 - November 16, 2018
Php 4,000.00 for students studying in the Philippines
Php 8,000.00 for Filipinos residing in the Philippines,
USD 250 for international participants or presenters
For payment details, please send an email.
Publication & Best Paper Award
Selected papers will be published in a special edition of a journal indexed by Clarivate Analytics (commonly known as ISI or WOS). Aside from journal publication, a separate volume of selected papers will also be published. To be considered for publication and for the Best Paper Award, kindly submit full papers by July 31, 2018.
Accommodation
De La Salle University-Dasmariñas has two types of accommodation within the campus. The local conference organizers at DLSU-D have made the arrangement with the DLSU-D RCC and university dormitories for those who prefer to stay at the campus. Kindly contact the person directly in charge through:
Outside the campus, you may arrange your own accommodation with Volet's Resort, Chula Vista, Double V Resort, Swiss Resort, and many others. Kindly consult your travel agents for your accommodation.
Visa Information
Majority of the foreign nationalities may enter the Philippines visa free and can stay for 30 days. For further information, please consult the Philippine Embassy at your respective countries.