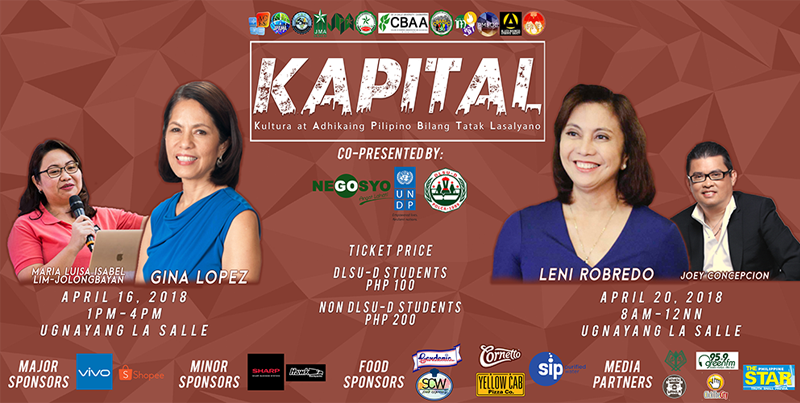 In line with its mission to develop morally upright business professionals towards social transformation, the College of Business Administration and Accountancy Student Government is spearheading the "KAPITAL: Kultura at Adhikaing Pilipino bilang Tatak Lasalyano" on April 16 and 20, 2018 at the Ugnayang La Salle.
The event seeks to invoke awareness and involvement among the Filipino youth, especially the Lasallian community, towards development and progress in the entrepreneurial and environmental aspects of the country. The conference aims to empower young business professionals by recognizing their power to be instruments, to be influencers, and to be advocates of change.
With the heightened and continuous battle on environmental issues both nationally and globally, former Secretary of the Department of Environment and National Resources (DENR) Gina Lopez, will be coming to DLSU-D on April 16 to conduct a talk on environmental sustainability. Lopez is a Filipino environmentalist who has advocated against mining and pushed for the use of renewable energy in the Philippines. A United Nations Development Programme (UNDP) representative will also be attending the event to discuss the 17 Sustainable Development Goals (SDGs), which are "a universal call to action to end poverty, protect the planet and ensure that all people enjoy peace and prosperity."
On April 20, Vice President Leni Robredo will be in DLSU-D to conduct a talk centered on small and medium-sized enterprises (SMEs), and explain their importance to the Philippine economy. She will also discuss what the government can contribute to private and public SMEs. VP Leni Robredo has been well-known for championing small businesses through her projects and her Empowerment Bill, which aims to create people's councils as a means of promoting public service and developing ownership of government projects.
Meanwhile, Go Negosyo founder Joey Concepcion will share with the participants his insights on his advocacy on empowering Filipinos to become entrepreneurs. Concepcion has been appointed by President Rodrigo Duterte as the Presidential Consultant for Entrepreneurship and has since launched several initiatives to help micro and small entrepreneurs towards the alleviation of poverty in the country.
With the most prominent and distinguished speakers of this time, KAPITAL is definitely one of the biggest and most prestige events to ever happen in the University. The conference will serve as a floor for hope and inspiration to flourish, as the speakers share their unparalleled insights while the audience convert these into something they can apply, as youths and as future professionals.