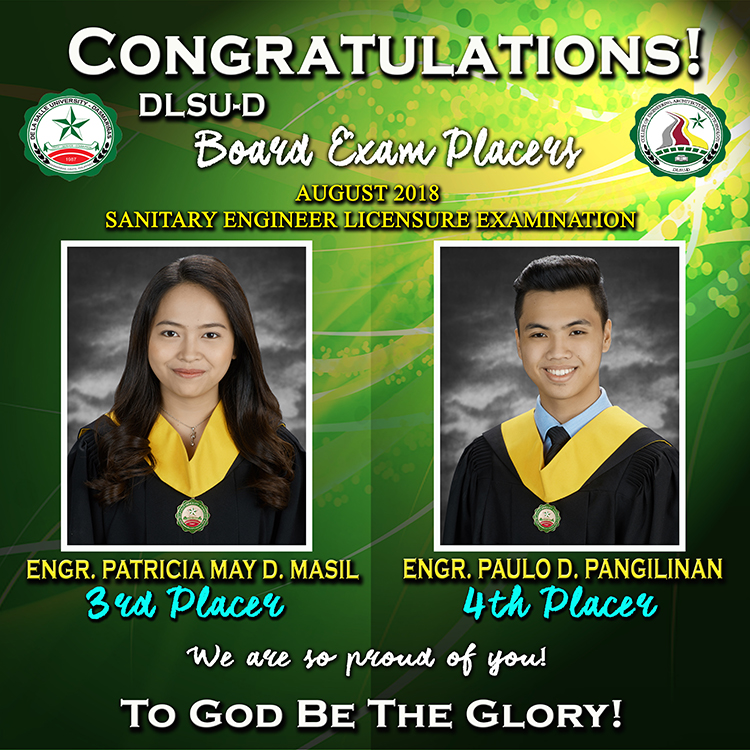 The College of Engineering Architecture and Technology welcomes the latest batch of Sanitary Engineers who passed the PRC Licensure Examinations.
DLSU-D also welcomes the first topnotchers from the Sanitary Engineering program. Engr. Patricia May Dy Masil placed third overall while Engr. Paulo Donaire Pangilinan landed in the fourth place among all the test takers.
Sanitary Engineering Licensure Exam Passers - August 2018
Engr. Jefrey Santillan Abalos
Engr. Jorayne David Baloran
Engr. Maxime Adrien Tampol Cahu
Engr. Christian Jairus Calbario
Engr. Jan Christer Matalang Dela Rosa
Engr. Larry Nicholas Bagara Egay
Engr. Chad Chester Ilano Genova
Engr. Benedict Juco Godinez
Engr. Samantha Kris Geronimo Hallig
Top 3-Engr. Patricia May Dy Masil
Engr. Edieson Encinares Mercado
Engr. Jose Antonio Ancheta Montalban
Engr. Martin Royce Dela Peña Naval
Top 4-Engr. Paulo Donaire Pangilinan
Engr. Ervin Jan Dela Cruz Piocos
Engr. Harries Kester Lanceta Riego
Engr. Jonas Herrera Saria
Engr. Elijjah Dales Falogme Talavera
Engr. James Fidel Austria Tan
Engr. Joan Paula Español Tolentino
Engr. Diana Rose Taguibao Valencia
Engr. Mark Renson Ledesma Villalobos
Engr. Carissa Quijano Yanto
Congratulations and Animo La Salle!