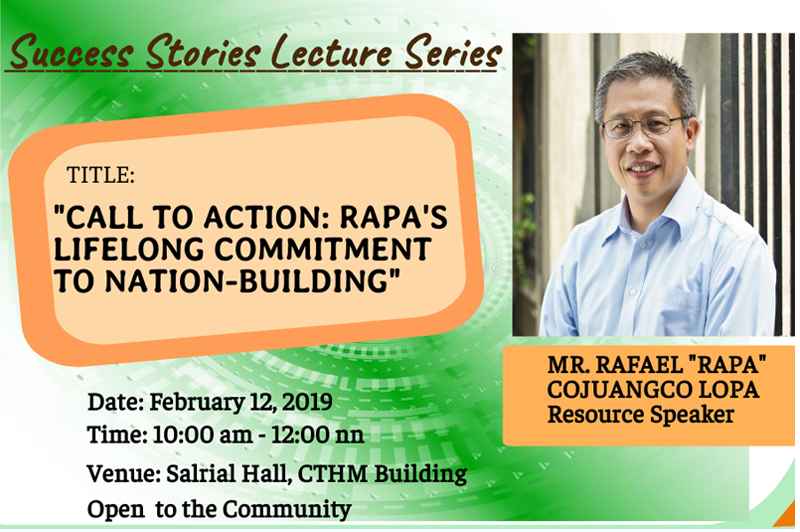 DLSU-Dasmariñas proudly welcomes Mr. Rafael "Rapa" Cojuangco Lopa, President, Ninoy and Cory Aquino Foundation, as he serves as the guest speaker in the second installment of this year's Success Stories Lecture Series which will happen at the Salrial Hall of the CTHM Bldg. on February 12, 2019. from 10-12nn.
Rapa's talk, entitled "Call to Action: Rapa's Lifelong Commitment to Nation-Building" will be a sharing of his vast experiences in both private and public sector.
The Success Stories Series is an essential part of the University's leadership development program. Each presenter is expected to emphasize the importance of values, ethics, character, and service in the performance of his or her responsibilities as well as share insights as to how they became successful in life and in their chosen profession.
The series seeks to provide the DLSU-D faculty and students with an opportunity to hear mature views and develop role models based on the experiences of seasoned personalities. The University believes that this is an essential step in arousing the motivation and confidence necessary for students to learn about and explore these issues on their own. It also seeks to develop a sense of pride and encourage the students to be movers and shakers or servant-leaders and for the faculty to gain deeper insight on contemporary issues and concerns.
The Success Stories Series is now on its seventh year and is an initiative of the Office of the Vice Chancellor for Mission, External Affairs and Advancement and the University Advancement Office, the Alumni Relations and Placement Office and various academic units of the University.