Researchers from De La Salle University-Dasmariñas have recently discovered a light emitting bacteria from squid ink that can detect organic pollution from rivers, a discovery that can make a huge impact on the drive of local government units to address water pollution.
Based on the study conducted by DLSU-D faculty members Marlon Pareja, Jocelyn Luyon, Ma. Luisa Cuaresma and Ruth America, a bioluminescent bacteria called Photobacterium leiognathi was found from the ink of Photololigo duvauceli, a native Philippine squid that is typically used as a dinner staple.
In order to conduct the study, the team collected water samples from different water bodies in Dasmariñas and tested the bacteria's reaction to the selected river parameters.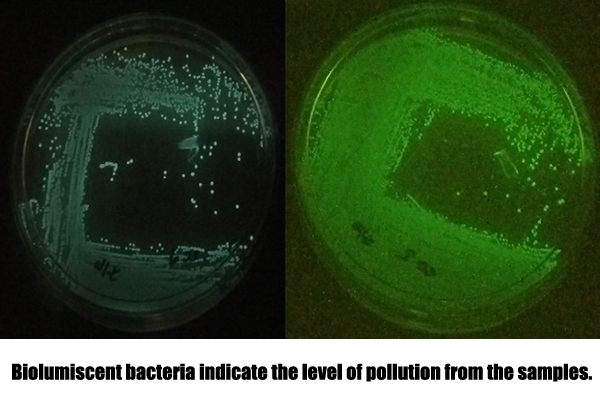 Luyon, who hails from the University's Environmental Resource and Management Center, said that the isolation of the bacteria was done in DLSU-D while the identification of the bacteria was made with some assistance from DLSU.
"We found out that there is a higher degree of light emission from the bacteria when the water samples have high level of organic pollution. It is possible that the these bacteria can be utilized to detect water pollution," Biological Sciences Department faculty members Cuaresma and America shared.
For his part, Pareja, a BSD Faculty member and Vice-Principal for Academics and Research, said that this discovery will have a huge implication on crafting the future direction of LGU policies.
"The study is part and in support of the DLSU-D's Cavite Development Research Program started by our University president which aims to provide research-based policy and governance direction to the LGUs," he said.