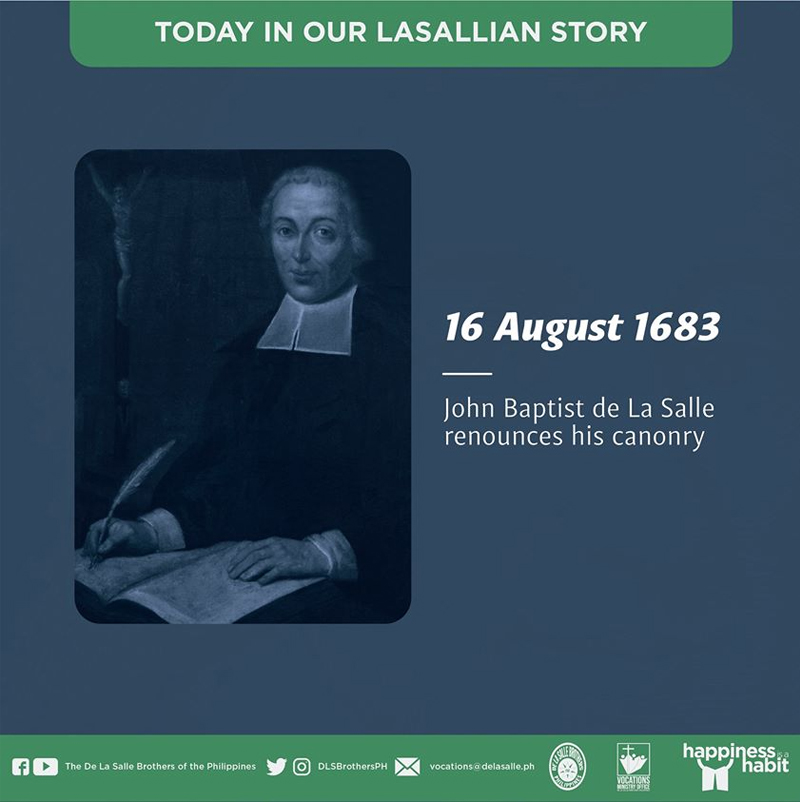 At a young age of 16 years, John Baptist de La Salle became a Canon of the Cathedral of Rheims, becoming part of a privileged group that had for its former members three popes, 23 cardinals, more than 30 bishops, and, most remembered of all, the great Saint Bruno, founder of the Carthusians.
The position of the Canon came with much pride, honor, prestige, and a stipend. The duties of a Canon were principally related to public prayer, especially the daily recitation in choir in the cathedral of the liturgy of the hours and attendance at the capitular Mass. The canons were also expected to participate in the solemn liturgies and processions that marked the great feasts in the church calendar.
De La Salle went on with his duties as a Canon as he established the Schools and eventually the Brothers. It was in one fateful encounter with the Brothers that he was led to think deeply about his position as Canon:
"By 1683, the Brothers became concerned about their stability and their security as part of this untested enterprise. De La Salle replied to their concerns with an inspiring talk about trusting in God's providence, like the lilies in the field. Their rather rough response was that it was easy for him to talk, being a wealthy man by birth and a canon with a large annual income, whereas they were poor, with no skills and no prospects. If the schools should fail, he would be no worse off, whereas they would be back on the streets. Instead of being upset at their impolite outburst, De La Salle took their words to heart. He did what he usually did in situations like this: reflect seriously, pray deeply, and consult widely with people of piety and wisdom. De La Salle considered donating his personal wealth to endow the community. This was as other Founders had done before him and as some of the Brothers had hoped. After reflecting, praying and consulting — though with determined conviction and a calm disposition — he resigned his position of canon at the cathedral after serving there for some 15 years."
(Source: https://www.dlsfootsteps.org/bio/)