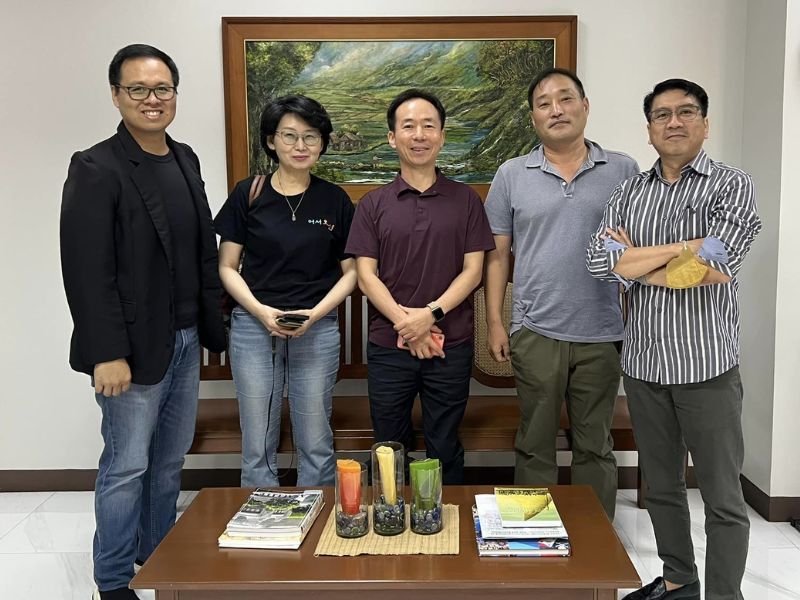 Officials from Korea's Our Sea of East Asia Network (OSEAN) and Korea International Cooperation Agency (KOICA) recently met with administrators from De La Salle University-Dasmariñas (DLSU-D) to discuss their ongoing partnership with the university on Marine Litter Management in the Manila Bay.
According to Assistant Vice Chancellor for Research Dr. Johnny Ching, OSEAN, in collaboration with KOICA, is implementing the Enhancing Marine Litter Management (EMLM) project in Manila Bay which aims to strengthen the environmental protection system of Manila Bay and enhance behavior changes toward marine pollution reduction and prevention. They have been working closely with DLSU-D as their academic partner for several years.
The first project, the Marine Litter Monitoring Survey in Manila Bay, is led by Dr. Airill Mercurio and is a three-year research initiative conducted through the Ecowaste Coalition as part of the EMLM program funded by KOICA and implemented by OSEAN.
Dr. Ching said that the second project, another component of EMLM, has also been finalized. The Integrated Marine Litter Management in Manila Bay will be a direct project under KOICA and OSEAN, overseen by Mr. Gideon Legaspi. Both projects will be under the supervision of Dr. Ching, serving as the program director.
"DLSU-D is honored to be the academic arm of the Enhancing Marine Litter Management (EMLM) project in Manila Bay through the Ecowaste Coalition of the Philippines implemented by the OSEAN and funded by the KOICA. This partnership is another opportunity for us to make an impact in the reduction and prevention of marine pollution," Dr. Ching said.
Among those who came to DLSU-D were OSEAN President Dr. Sunwook (Sunny) Hong, Chief Science Officer Dr. Jongmyoung (Jose) Lee, and officer Hoseung Jung. They were received by Linkages Director Dr. Christian George Francisco and Dr. Ching at DLSU-D's Ayuntamiento Building.
Early this year, the DLSU-D team participated in the Marine Litter Monitoring Survey Methodology and Field Practice training sessions conducted by the DENR. Initially, they attended as participants, but for the second training held last month, they served as resource speakers, sharing key findings from their study.