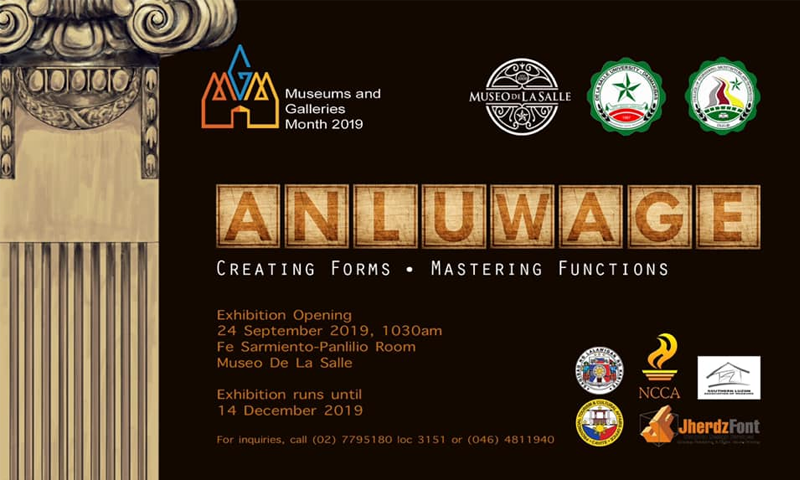 With the advent of technology and high powered tools, the traditional anluwage or karpintero, who would toil with their hands for beautifully crafted woodwork like in ancestral houses and heirloom furnitures, are becoming rare. To celebrate their skills this coming Museums and Galleries Month in October, the Museo de La Salle will open the exhibition ANLUWAGE: Constructing Forms, Mastering Functions on September 24, 2019 at the museum's Fe Sarmiento-Panlilio Room.
By showcasing selected notable wooden furniture pieces and an assortment of authentic wooden house parts such as carved balusters and callados from the museum collection, the exhibition hopes to provide a glimpse on the remarkable craftsmanship of Filipino artisans and their unique skills of combining aesthetics and function. The exhibition, in partnership with the DLSU-D Architecture Department, will also tackle the concept of Green Architecture and its response to sustainability.
ANLUWAGE: Constructing Forms, Mastering Functions forms part of Project Bayani: Curating South Luzon, a simultaneous exhibition among the museum members of the Southern Luzon Association of Museums (SLAM). The project is an attempt to promote a museum route by creating a unifying exhibition to capture in single theme the thrusts of each participating museum.
This exhibition is made possible by DLSU-D Architecture Department, Jherdzfont Graphics and Cavite Provincial Tourism Office. Museo De La Salle is open Tuesday-Saturday, 9am-330pm. For inquiries, call (02) 7795180 loc 3151, 046) 4811940 or email museodelasalle@dlsud.edu.ph.