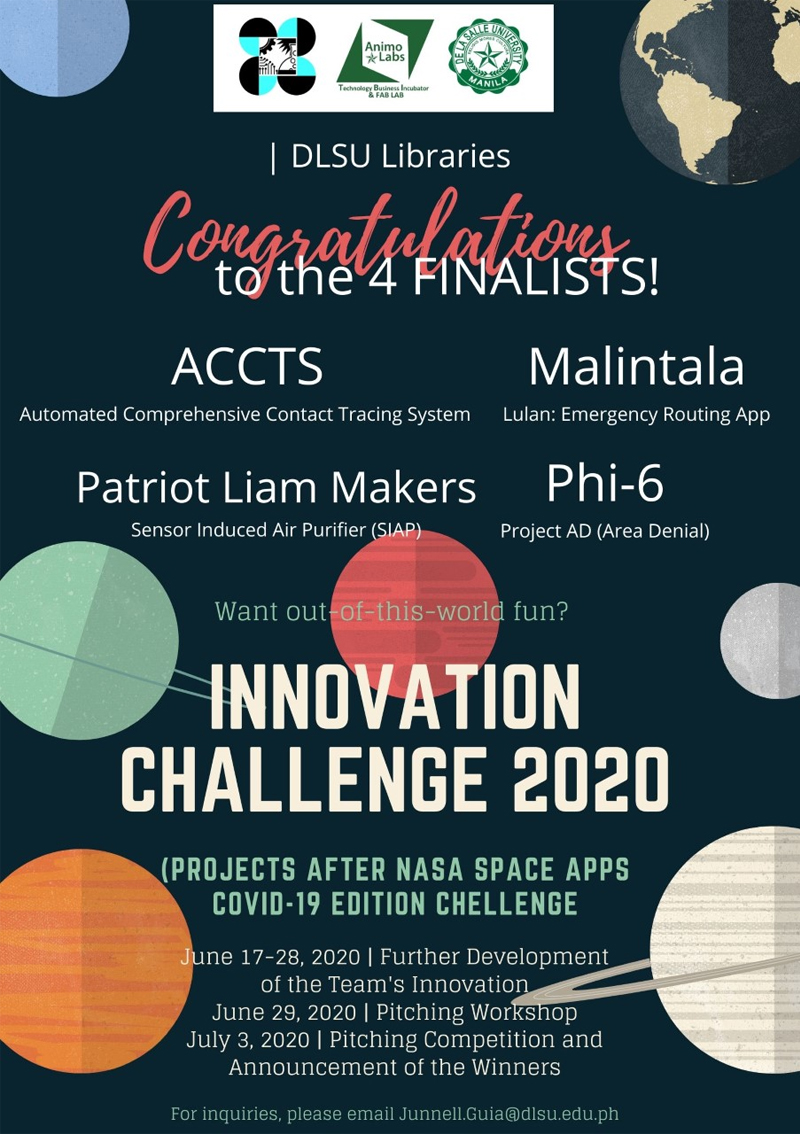 DLSU-D's Patriot Liam Makers has been selected as one of the four finalists in the Innovation Challenge 2020 for their Sensor Induced Air Purifier proposal.
The finalists are required to attend the Pitching Workshop on June 29, 2020 (Monday) and will be entitled to compete in the Pitch Competition on July 3, 2020 (Friday).
The Innovation Challenge 2020 is a competition organized by Animo Labs and DLSU Library to find the best projects after the NASA Space Apps COVID-19 Edition Challenge.
It can be recalled that Patriot LIAM Makers, a group of DLSU-D professors have signed up to participate in NASA's Space Apps COVID-19 Challenge. The team of Dr. Maryli Rosas, Prof. Ivan James Fermanejo, Engr. Lassanah Keita and Dr. Jose Aims Rocina will represent the University in the international contest.
Space Apps is an international hackathon for coders, scientists, designers, storytellers, makers, builders, technologists, and others in cities around the world, where teams engage with the National Aeronautics and Space Administration's free and open data to address real-world problems on Earth and in space.
Launched by the NASA nine years ago, the competitors numbered 29,000 in 225 events in 71 countries last year. In May 2020, the virtual-only Space Apps COVID-19 Challenge concluded with over 15,000 participants from 150 countries.
The competition, which NASA is holding in partnership with Booz Allen Hamilton, Mindgrub and SecondMuse, will happen on October 2-4.
Animo La Salle! ♥