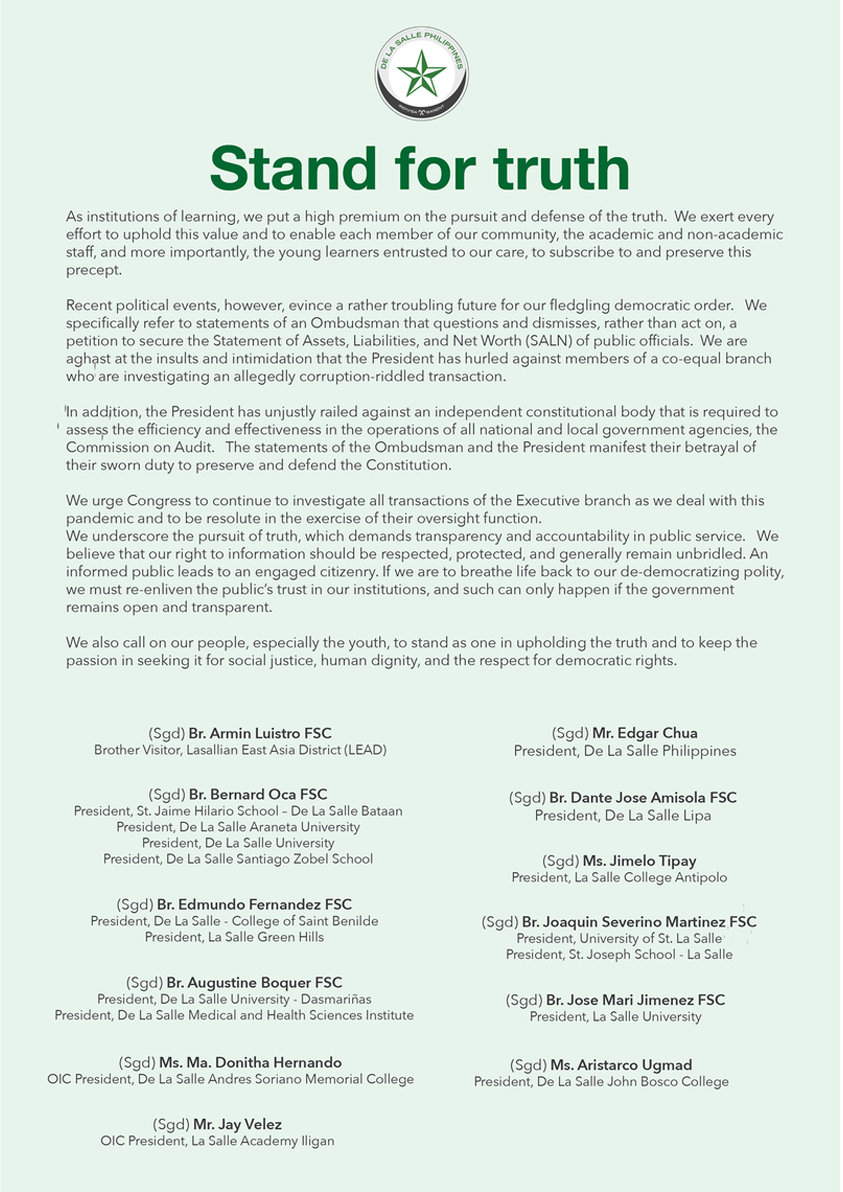 De La Salle University-Dasmarinas President Br. Augustine "Gus" Boquer FSC is among the signatories of De La Salle Philippines' position on promoting and upholding transparency and truth in government.
The statement, entitled "Stand for Truth" was signed by 12 Lasallian Brothers representating Lasallian institutions all over the Philippines. The statement sought to mobilize the Filpino people, particularly the youth, to hold the government accountable for ensuring social justice, protecting human dignity and respect for democratic rights.
Read the full statement below.
As institutions of learning, we put a high premium on the pursuit and defense of the truth. We exert every effort to uphold this value and to enable each member of our community, the academic and non-academic staff, and more importantly, the young learners entrusted to our care, to subscribe to and preserve this precept.

Recent political events, however, evince a rather troubling future for our fledgling democratic order. We specifically refer to statements of an Ombudsman that questions and dismisses, rather than act on, a petition to secure the Statement of Assets, Liabilities, and Net Worth (SALN) of public officials. We are aghast at the insults and intimidation that the President has hurled against members of a co-equal branch who are investigating an allegedly corruption-riddled transaction.

In addition, the President has unjustly railed against an independent constitutional body that is required to assess the efficiency and effectiveness in the operations of all national and local government agencies, the Commission on Audit. The statements of the Ombudsman and the President manifest their betrayal of their sworn duty to preserve and defend the Constitution.

We urge Congress to continue to investigate all transactions of the Executive branch as we deal with this pandemic and to be resolute in the exercise of their oversight function.

We underscore the pursuit of truth, which demands transparency and accountability in public service. We believe that our right to information should be respected, protected, and generally remain unbridled. An informed public leads to an engaged citizenry. If we are to breathe life back to our de-democratizing polity, we must re-enliven the public's trust in our institutions, and such can only happen if the government remains open and transparent.

We also call on our people, especially the youth, to stand as one in upholding the truth and to keep the passion in seeking it for social justice, human dignity, and the respect for democratic rights.