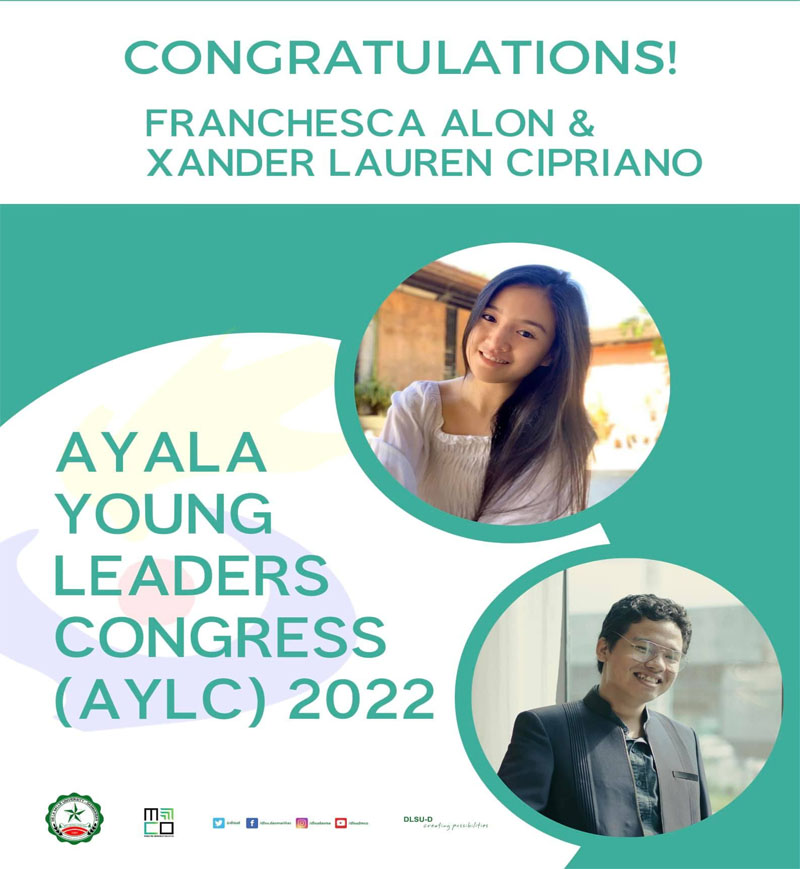 College of Business Administration and Accountancy Student Franchesca Alon and College of Liberal Arts and Communication's Xander Lauren Cipriano made it to the list of participants in the upcoming 24th Ayala Young Leaders Congress (AYLC).
Selected from among 800 student applicants from universities and colleges all over the Philippines, the qualified participants went through a rigorous selection process; from the application phase to a series of online panel interviews.
Alon and Cipriano are both active student leaders of the University. The former serves as the National Chief Associate for Events Financing of the National Federation of Junior Philippine Institute of Accounts. She also has handled various top positions in internal and external organizations, while the latter, anchors several radio programs and serves as Executive Producer in DLSU-D's radio station, Green FM. He is also the former Editor and Chief of the DLSU-D Senior High School's student publication La Estrella Verde.
Ayala Young Leaders Congress is a student leadership summit for Filipino college and university student leaders, designed to build confidence, hone leadership skills, nurture commitment, foster nationalism and idealism, and encourage faithful stewardship.
Animo La Salle! ♥