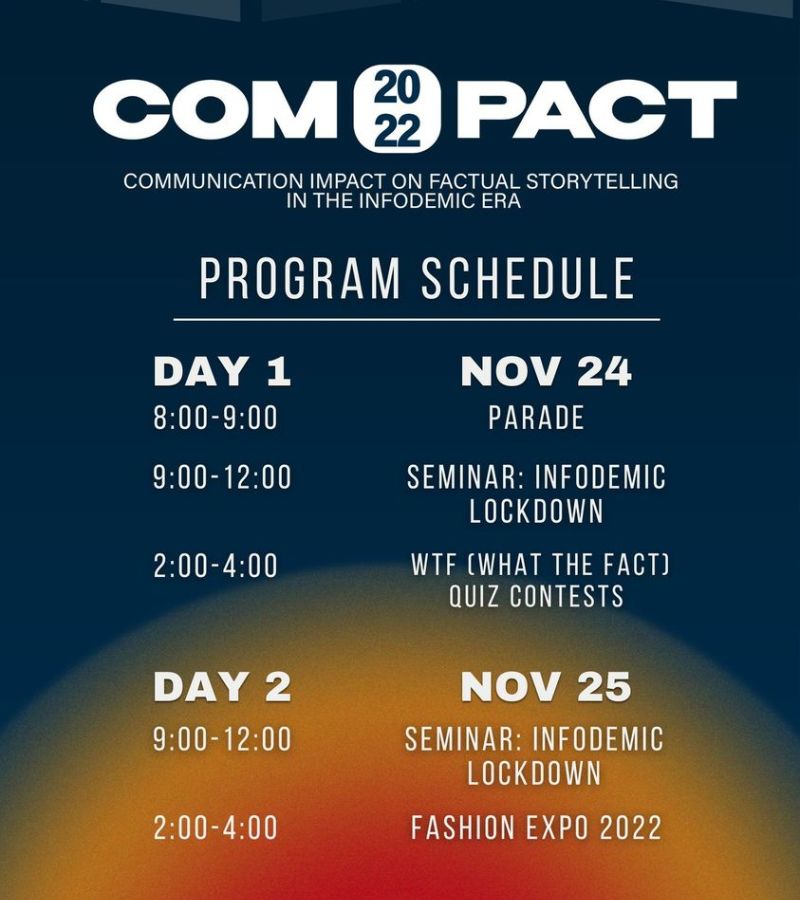 The Communications and Journalism Department (CJD) will hold the annual COMPACT event with the theme "Communication Impact on Factual Storytelling in the Infodemic Era" which highlights the need to break the dangerous cycle of infodemic, misinformation, and disinformation that affect decision-making processes.
From November 24 to 25, COMPACT 2022 will expose the tactics employed by malicious entities and build the students' resilience against misinformation and disinformation.
"Now and into the future, every person is urged to do their part in managing the negative impact of the infodemic," CJD chair Nornelyn Cachuela said.
She explained that this is important because the infodemic, which is explained by the World Health Organization as an influx of information including false or misleading information in digital and physical environments during a disease outbreak, can create confusion and distrust among people during a crisis.
The main event of COMPACT 2022 is a seminar entitled "Infodemic Lockdown: Immunizing Truth, Isolating Lies." Competitions including WTF (What The Fact?!), PSA Tiktok Challenge online content Challenge, YouTube – Filipino Youth in the Infodemic Era: Lies Revoked, Speak the Truth! Spoken Poetry Contest 2022, and a fashion expo will be the highlights of the two day event.