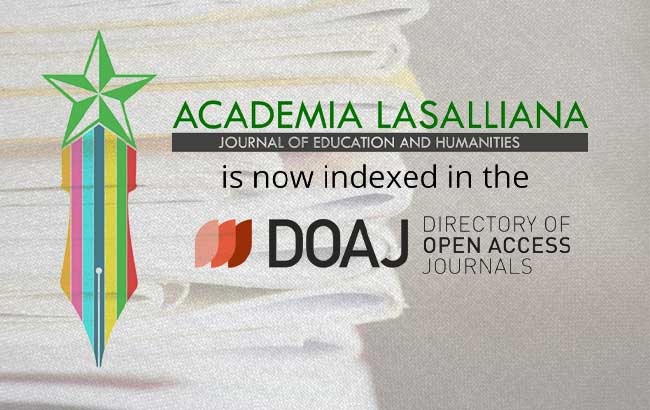 The University Research Office gladly announces that one of its journals,the Academia Lasalliana Journal of Education and Humanities (ALJEH), is the only DLSU-D journal that has been recently indexed by the Directory of Open Access Journals (DOAJ). DOAJ is an "online directory that indexes and provides access to high quality, open access, peer-reviewed journals."
According to Dr. Jonathan Gochuico, ALJEH Editor in Chief, this indexing furthers the status and distinction of ALJEH in terms of publishing high quality articles. To add, it acknowledges ALJEH's commitment to and observation of scholarly practices." Having the DOAJ index boosts the journals discoverability and visibility, thereby broadening ALJEH's international coverage. This also protects researchers from unethical and predatory journals," Gochuico explains.
Apart from the DOAJ, Academia Lasalliana is the sole journal indexed by the Br. Andrew Gonzalez Philippine Citation Index and CrossRef.
In line with this recognition, the University, in its continuous efforts to promote research, encourages faculty and students to submit research papers for publication in the ALJEH, together with other DLSU-D journals that serve as platforms for showcasing quality research outputs.