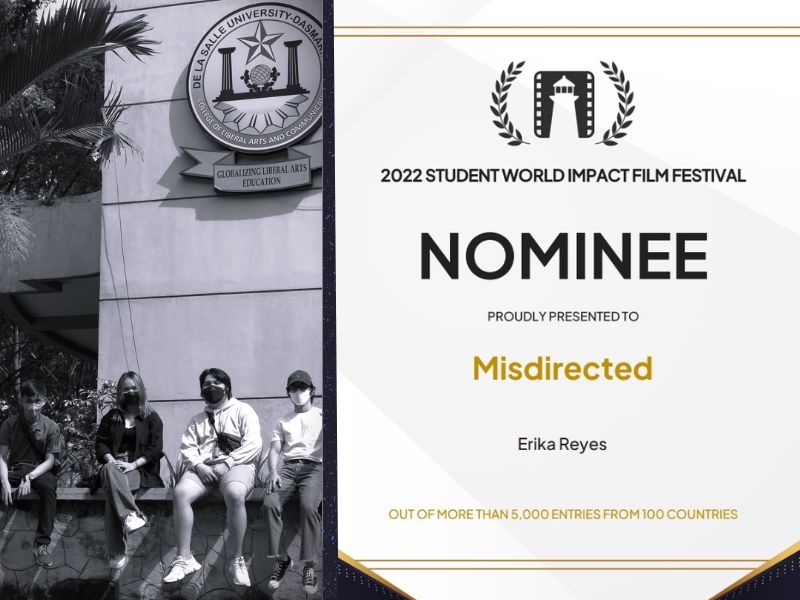 A film from De La Salle University-Dasmarinas students was selected as a finalist for multiple categories at the 2022 Student World Impact Film Festival.
The team of Erika Reyes, Patrick Adam Cimacio, Vincent Rodriguez, and Shane Jhastin Picson was recently informed that their film Ye Keda Nuway (Misdirected), was nominated for four major awards including the Global Impact Grand Prize, Global Impact Grand Jury Award, Emerging Film Visionary Award, and Global Impact Grand Prize for Championing Diversity and Culture.
Misdirected was chosen out of a pool of 5,000 entries from 100 countries. Based on the initial feedback from the judges, the film received compliments for its artistry and uniqueness. The film was also complimented for being visually striking and engaging. Misdirected also received praise for its incredibly impactful message.
"Thank you so much! We are so grateful for this citation. We will update you on the screening details soon. To the Ye Keda Nuway crew, I'm so proud of all of you. All our hard work has paid off. All the glory to God!" Reyes said.
According to team's adviser Rosanni Sarile, the students made the film as part of their thesis output. "Proud adviser here," she said simply.