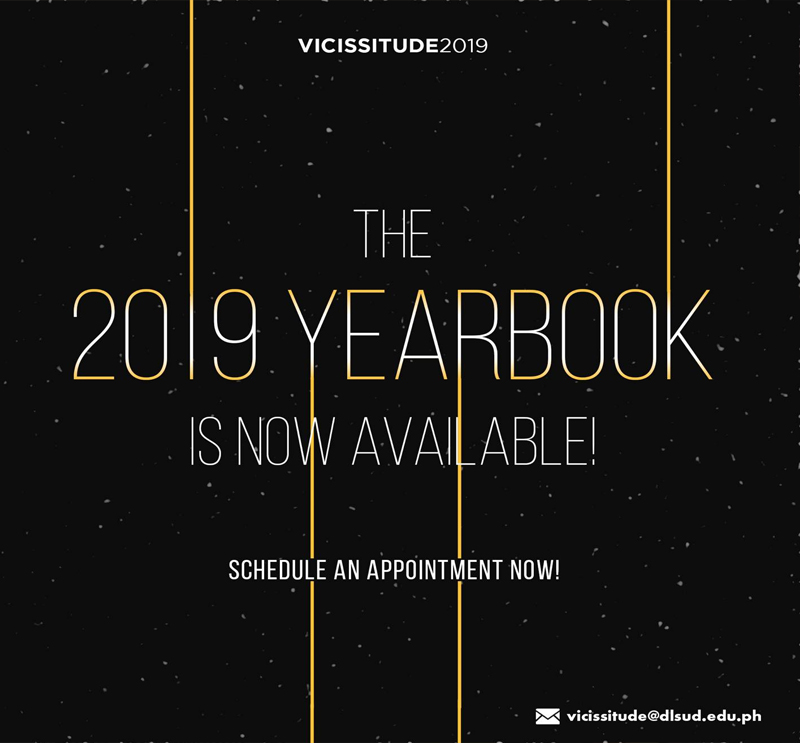 Vicissitude, the official yearbook publication of De La Salle University-Dasmariñas, has announced that yearbooks for Batch 2019 are now available for claiming.
Guidelines for claiming
As part of the safety protocols provided by the University and the local government, only fully vaccinated individuals will be allowed to book an appointment.
Available schedules are refreshed on a weekly basis. Our office is open only from Monday-Wednesday (9:00am-12:00pm) weekly!
You may only book your appointment from Monday (8:00am) until Thursday (12:00pm).
Walk-ins are strictly prohibited. To ensure a safe transaction, please fill out our ONLINE CLAIMING FORM before visiting the office.
To book your appointment, kindly follow the steps below:
 Step 1. Schedule your appointment via Vicissitude's Online Claiming Form using the link below:
ℕ𝕆𝕋𝔼: 𝔸𝕤 𝕒 𝕤𝕠𝕔𝕚𝕒𝕝 𝕕𝕚𝕤𝕥𝕒𝕟𝕔𝕚𝕟𝕘 𝕞𝕖𝕒𝕤𝕦𝕣𝕖, 𝕠𝕟𝕝𝕪 𝕒 𝕞𝕒𝕩𝕚𝕞𝕦𝕞 𝕠𝕗 𝟛𝟘 𝕒𝕡𝕡𝕠𝕚𝕟𝕥𝕞𝕖𝕟𝕥𝕤 𝕨𝕚𝕝𝕝 𝕓𝕖 𝕤𝕔𝕙𝕖𝕕𝕦𝕝𝕖𝕕 𝕡𝕖𝕣 𝕕𝕒𝕪.
 Step 2. Prepare your documents and bring the requirements needed on your scheduled appointment:
Printed Email Receipt (this is system-generated)
Vaccination Card
Any Government-issued ID or School ID
For representatives (authorized persons), in addition to the requirements above, also prepare the following documents:
Signed Letter of Authorization
Photocopy of the Subscriber's Valid ID
Representative's Valid ID
 Step 3. On the day of your appointment, proceed to VBH105. Present your documents to the assigned personnel who will help you with your transaction.
ℕ𝕆𝕋𝔼: 𝕀𝕗 𝕪𝕠𝕦 𝕞𝕚𝕤𝕤 𝕪𝕠𝕦𝕣 𝕒𝕡𝕡𝕠𝕚𝕟𝕥𝕞𝕖𝕟𝕥, 𝕪𝕠𝕦 𝕨𝕚𝕝𝕝 𝕙𝕒𝕧𝕖 𝕥𝕠 𝕣𝕖𝕕𝕠 𝕤𝕥𝕖𝕡𝕤 𝟙 𝕒𝕟𝕕 𝟚.
 Step 4. Wait for the office personnel to complete your transaction. To ensure a contact-less interaction, a table will be provided for claiming.
 Step 5. Before you leave, do not forget to insert your requirements in the drop boxes provided.
Take note that face mask is necessary upon University entry. For our complete set of guidelines and other information, please visit the Vicissitude website.