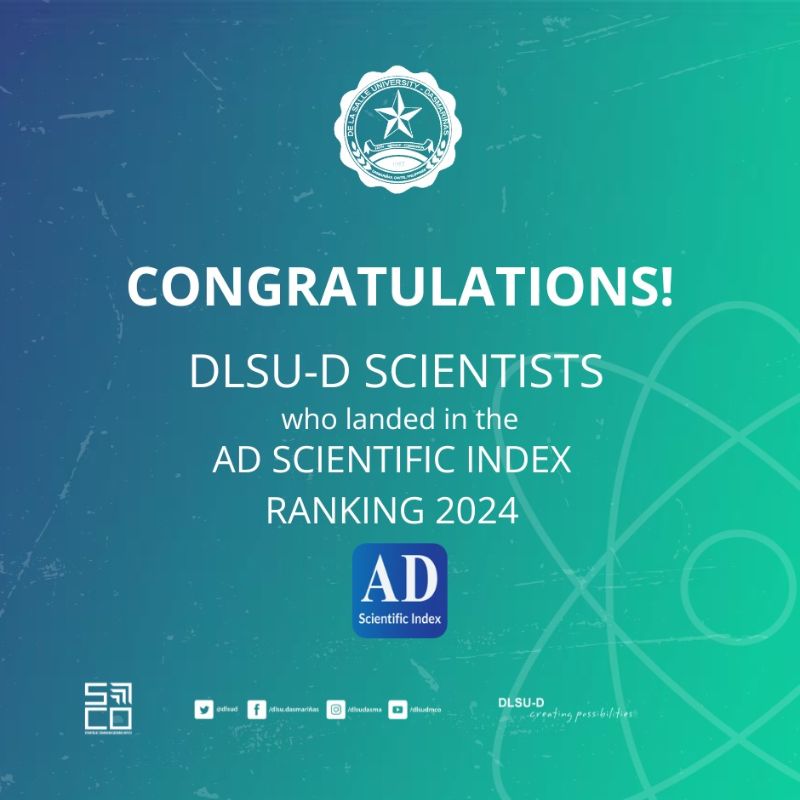 Twenty one (21) faculty members from De La Salle University-Dasmariñas (DLSU-D) were listed in the prestigious AD Scientific Index. Leading the list of the University's top scientists were Vice Chancellor for Academics and Research Dr. Cristina Salibay, and Assistant Vice Chancellor for Research Dr. Johnny Ching.
Below is the complete list of exceptional Lasallian faculty who made it to the coveted index:
Name
Field of Expertise
Cristina Cabanacan Salibay
Medical and Health Sciences / Parasitology
Daniel Dasig Jr.
Engineering and Technology /
Electrical and Electronic Engineering
Johnny A. Ching
Natural Sciences / Biological Science
Hazel Anne Tabo
Natural Sciences / Biological Science
Roann Munoz Ramos
Social Sciences / Psychology
Ma Cristina Macawile
Biomass Conversion | Supercritical fluid CO2 |
Catalysis | Advanced Oxidation Process
Paulino H Gatpandan
Data Mining | Analytics | Data Envelopment Analysis
Ronaldo Lagat
Herpetology
Maryli F. Rosas
Engineering and Technology / Computer Science
Airill Mercurio
Engineering and Technology / Environmental Science
and Engineering
Paul Anthony Notorio
Social Sciences / Tourism and Hospitality
Rudolph Val Guarin
Law / Law and Legal Studies
Wilson Jacinto
Natural Sciences / Biological Science
Genine S. Torres
Social Sciences / Linguistics and Literature
Olivia Martinez Legaspi
Education / Education
Jemerson N. Dominguez
Social Sciences / Psychology
Mario S. Torres
Conservation Biology | Environmental Management |
Environmental Education | Environmental Health
Arizaldo Castro
Biological Sciences | Microbiology |
Cell and Molecular Biology
Jonnacar San Sebastian
Natural Sciences / Biological Science
Henry Bernardo
History, Philosophy, Theology / Theology
Jose Aims R. Rocina
Social Sciences / Political Science
The AD Scientific Index evaluates scientists based on their research impact, and ranks them in various academic subjects. It also helps identify unethical practices and assess the effectiveness of academic policies.