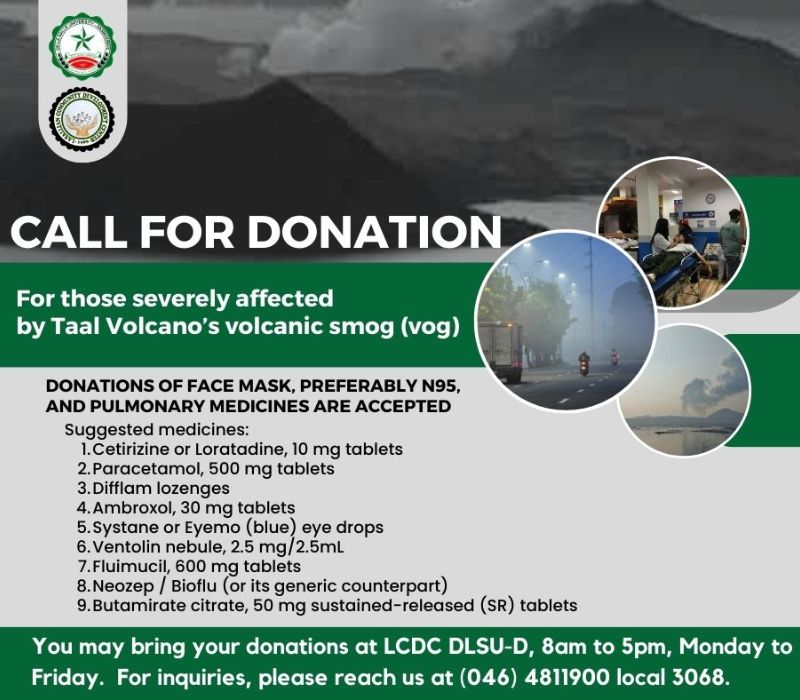 The Lasallian Community Development Center (LCDC) is calling for donations to provide aid to those who have been severely affected by the volcanic smog from Taal Volcano.
The volcanic sulfur dioxide (SO2) emissions from Taal Volcano are currently posing pulmonary health hazards in Calabarzon. It has been hovering over the region and some residents have reportedly fallen ill due to the concentration of volcanic smog. With this, we request your kind support to help make sure that we provide needed assistance to affected individuals and families who cannot fully afford pulmonary medicines and N95 masks, especially those with pulmonary diseases.

The LCDC is calling for donations of face masks preferably N95 and pulmonary medicines to be given free. The priority recipients are students, BPD residents, LCDC partner communities and institutions, and DLSU-D Third Party Service Providers (housekeepers, guards, etc.) We will also provide donations to the barangays near Taal Volcano, should we have sufficient supplies.
According to the LCDC, donations will be accepted at the LCDC office from 8:00 AM to 5:00 PM, Mondays to Fridays.