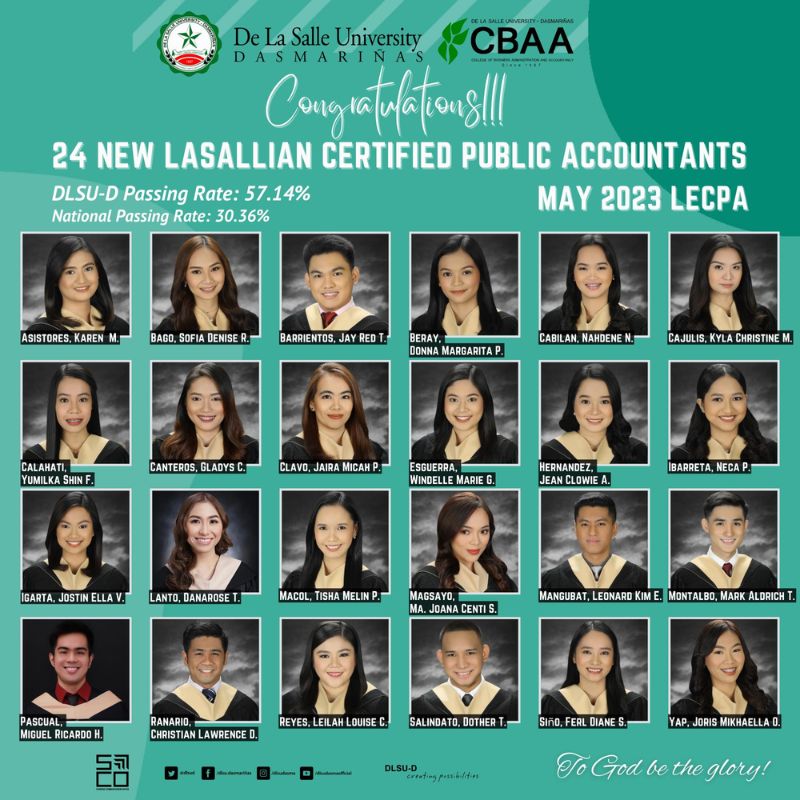 De La Salle University-Dasmariñas celebrates the achievement of the 24 Lasallian alums who passed the May 2023 Licensure Examination for Certified Public Accountants conducted by the Professional Regulation Commission.
May 2023 Licensure Examination for CPA Passers
 Karen M. Asistores
 Sofia Denise R. Bago
 Jay Red T. Barrientos
 Donna Margarita P. Beray
 Nahdene N. Cabilan
 Kyla Christine M. Cajulis
 Yumilka Shin F. Calahati
 Windelle Marie G. Esguerra
 Jean Clowie A. Hernandez
 Neca P. Ibarreta
 Jostin Ella v. Igarta
 Danarose T. Lanto
 Tisha Melin P. Macol
 Leonard Kim E. Mangubat
 Mark Aldrich T. Montalbo
 Miguel Ricardo H. Pascual
 Christian Lawrence D. Ranario
 Leilah Louise C. Reyes
 Dother T. Salindato
 Ferl Diane S. Siño
 Joris Mikhaellla O. Yap
 Gladys C. Canteros
 Jaira Micah P. Clavo
 Ma. Joana Centi S. Magsayo
"The journey to becoming a CPA can be taxing, but your hard work and dedication have paid off. You are now reaping the rewards of your sacrifices and seeing the fruits of your labor. Your bravery and commitment to excellence will undoubtedly serve as an inspiration to those who are currently pursuing their CPA dreams and to those who are still in the process of achieving their goals," the DLSU-D CBAA Student Government posted on their official social media page.
"To the 24 new Lasallian CPAs, we are incredibly proud of each one of you. A passing rate of 57.14% is a commendable achievement that truly reflects the indomitable spirit of the College of Business Administration and Accountancy as the Home of the Achievers," they added.
Animo La Salle! 💚