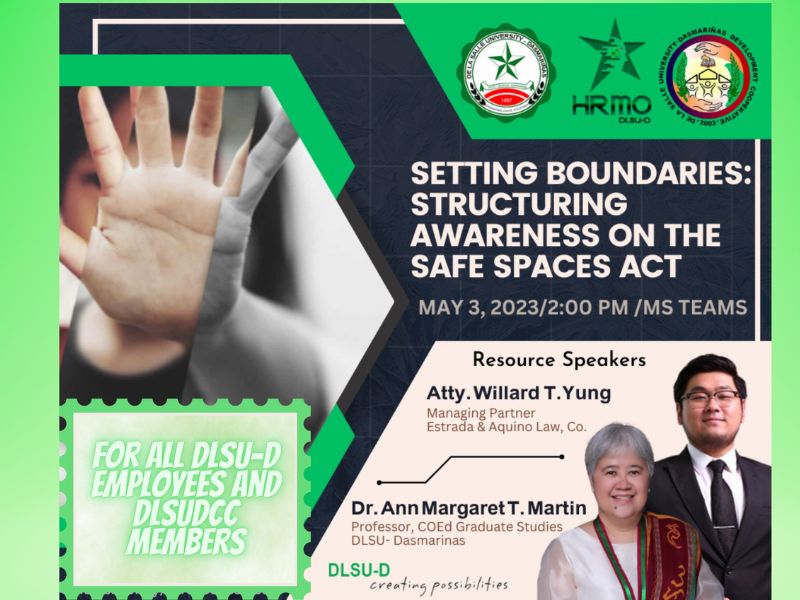 Lasallian faculty members attended a webinar entitled Setting Boundaries: Structuring Awareness on the Safe Spaces Act, which seeks to raise awareness on the importance of protecting safe working and learning environments for faculty and students.
The webinar tapped expert resource persons like Atty. Willard Yung, managing partner at Estrada & Aquino Law Co., who covered the topic" Safe Spaces Act and other Relevant Laws Against Sexual Harassment and Discrimination", as well as Dr. Ann Martin, RGC, who focused her lecture on "The Safe Spaces Act and Mental Health."
In his talk, Atty. Yung discussed several cases pertaining to violations of RA 11313 or the Safe Spaces Act, also known as the Bawal Bastos Law. This law protects individuals from gender-based sexual harassment in streets, public spaces, online, workplaces, and educational or training institutions. RA 11313 also provides protective measures, and prescribes penalties against violators.
During her portion of the webinar, Dr. Ann Martin cited violations of the Safe Spaces Act in the school setting and discussed what should be done to prevent this from happening in DLSU-D.
Dr. Martin said that providing safe spaces for the community is part of the University's commitment to contribute to the achievement of the United Nations' Sustainable Development Goals on promoting peaceful and inclusive societies.
"It's a process that we are all going through when we continue, we're conscious of that and we would like to always go towards this direction. We are making the university a place, a safe place for everybody, for everybody who will thrive, who will feel respected and valued," she said.