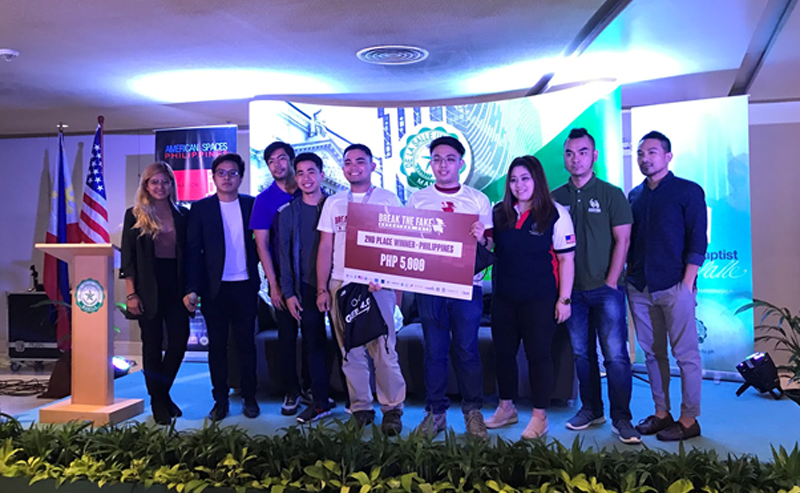 An alumnus from De La Salle University-Dasmariñas recently became part of a team that bagged the second place honors at the Break the Fake Hackathon, a three-city event that challenges programmers and developers to create systems that will help institutions battle disinformation.
Filipino students and professionals who entered the competition had five minutes to present their programs and they were also given three minutes to field the judges' questions. The first, second and third prize winners received cash prizes amounting to P15,000, Php 5,000 and Php 5,000.
Team Git Stash, composed of DLSU-D alumnus Andresito M. de Guzman and his teammate Reynier C. Tasico, a graduate of First Asia Institute of Technology, created a browser extension called Syasat, which seeks to bridge the gap between users and fact-checking organizations. It also allows users to prevent common pitfalls like fake news and other opinions that can possibly sway their perspective.
"The solution proposed by the Git Stash team is as ambitious as it is realistic. By making it easy for people to better vet their news - asking of them only the effort of installing a browser extension - more of us can contribute to the cause. Their solution effectively leverages the wisdom of the crowd to combat fake news," said Sofia Galve, co-founder of Ambidextr, one of the partners for Break The Fake.
The Break the Fake Hackathon first made it stop in Jakarta, Indonesia in June and proceeded to stage its second event in Kuala Lumpur, Malaysia last July. Manila was its final stop before all the winning teams compete in the Grand Hackathon to be held on September in Manila. The final winner will receive P100,000 worth of prizes, as well as a chance to pitch their projects to potential investors.
The event was made possible through a grant awarded by the Young Southeast Asian Leaders Initiative (YSEALI) Seeds for the Future program of the US government, in cooperation with Cultural Vistas. Launched in 2013, YSEALI is the signature program of the United States to strengthen youth leadership in the region. The "Break the Fake Hackathon" was among the 21 winners of the small grants competition, which received grants ranging from $4,000 to $15,000. The winners emerged as most deserving from the 400 applications the organization received in Southeast Asia.
For more information and updates, check the organization's Facebook page at www.facebook.com/breakthefakeph.