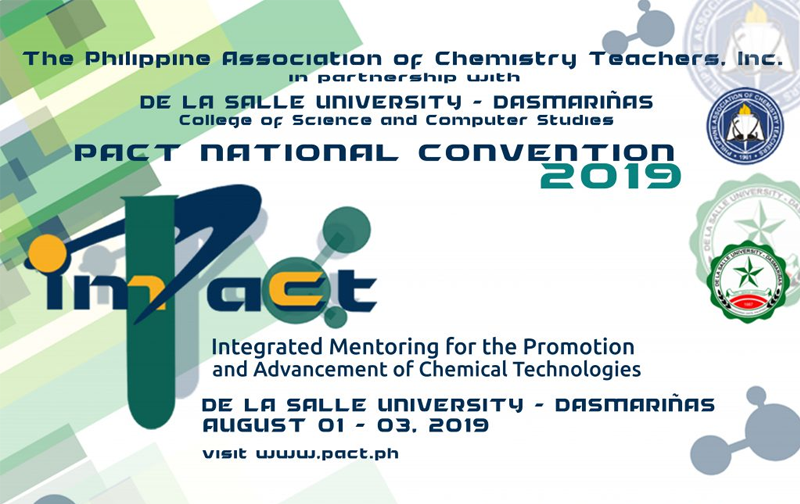 The 2019 PACT National Convention will be held at De La Salle University – Dasmariñas from August 1-3, 2019. The theme for this year's convention is "imPACT: Integrated Mentoring for the Promotion and Advancement of Chemical Technologies".
Guidelines for Oral and Poster Paper
Click here for the guidelines. Email the abstract of your paper to: camacho.vmi@pnu.edu.ph
Speakers and Lecturers
"Revisiting Scientific Literacy: Citizen Science"
Teresita F. Religioso, Keynote Speaker
"Covalencing Academe and Industry in a Multi-Generational Dynamics"
Cora Sanico, Consumer Products Technologist, Board of Director and Public Relations Officer, Philippine Alliance of Laboratory Equipment Users
"Bachelor of Science in Coffee and Everything Else You Love: 21st Century Learning"
Dr. Emmanuel V. Garcia, De La Salle University
"Water Quality Monitoring Protocols for Secondary Students"
Dr. Teresita Perez, Department of Environmental Science, Ateneo de Manila University
Colorful Electrolysis (Electrochemistry)
Jervee Punzalan, MSc, RCh, University of the Philippines-Manila
Understanding Functions Through Structure
Crist John Pastor, Ph.D., Philippine Normal University
Simple Thermochemistry Experiments for High School Students
Mary Ann O. Torio, Ph.D., University of the Philippines Los Baños
Thermochemistry in the Household
Ralph Lauren M. Alomia, R.Ch., University of the Philippines Los Baños
Chem Hacks: Technology Integration in Teaching Chemistry
Jerico Echevarria, LPT, De La Salle Greenhills
Brain-based Structures for Classroom Engagement
Maria Florencia N. Male, LPT, Reedley International School

Panelists

Edwehna Elinore S. Paderna, Ph.D., University of the Philippines Diliman
Micah Pacheco, LPT, Department of Education-NCR
Vic Marie I. Camacho, Ph.D. Philippine Normal University
Myrna S. Rodriguez, Ph.D., University of the Philippines Los Baños
Online Registration
Registration will be done online. Be ready for the following when you register:
Proof of membership (for Life Member, Regular Member and Associate Member).
School ID and registration form (for undergraduate students).
Scanned copy of the deposit slip.
PRC Registration number and expiry date for licensed teachers/registered chemists.
Click herefor the registration form.
Registration Fee
| | | |
| --- | --- | --- |
| | Early Registration (On or before 15 July 2019) | On–Site (After 15 July 2019) |
| Member | PHP 5,000 | PHP 5,300 |
| Non–member | PHP 5,300 | PHP 5,500 |
| Student* | PHP 3,500 | PHP 4,000 |
*Applicable only to undergraduate students. Students must email scanned copy of ID and current registration form to avail of the privilege.
Fees should be deposited at any branch of Security Bank.
Account Name: Philippine Association of Chemistry Teachers-National Chapter (PACT-National) Inc.
Account. No. 0000018210247
Please inform the bank teller to put narrative name "your name" in the deposit transaction.
If check payment: endorse the check to "PACT-National.
Official receipt will be issued only upon presentation of the original copy of deposit slip during registration on the day of the seminar.
Inclusions
certificate of attendance
Lunch, AM and PM snacks for Days 1 and 2
AM Snacks for Day 3
Fellowship Night