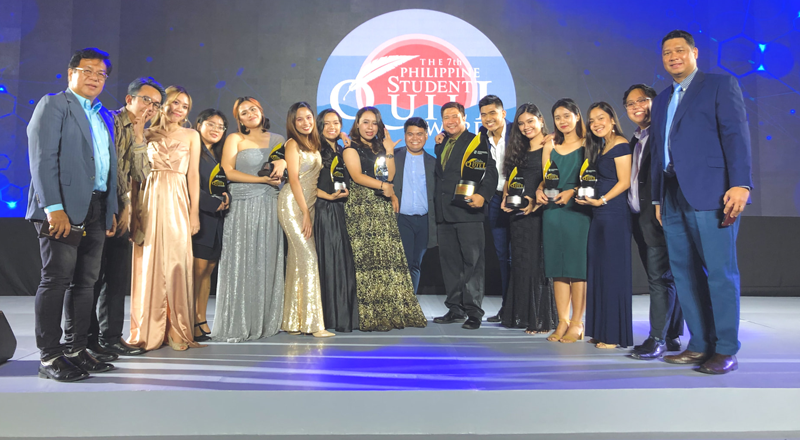 Seven entries from De La Salle University-Dasmariñas (DLSU-D) were honored at 7th Philippine Student Quill Awards organized by the International Association of Business Communicators-Philippines.
Two merit awards for the Communication Skills Division were awarded to Heraldo Filipino's Ma. Bianca Isabelle C. Lariosa for Alipato Vol.15, and Palad Vol. 20.Four other awards from the CLAC Student Government and CJD/BJPC students also received awards for their remarkable outputs.
Among these were "LIDERAL 2018: Empowering the Liberal Lasallian Leader" by Heliz P. Hilario (Communication Management Division); "M.I.Literate?" by Kathleen Chloe R. Basence and "Ang Hiyaw ng mga Sirena" by Charles Ivan D. Medina (Communication Skills). Thale Joy Blanco Escuton's study entitled: "The Water Crisis in the City of Dasmariñas: Problems and Prospects for a Public Relations Plan" was the lone awardee for the Communication Research Division.
Meanwhile, the Broadcast Journalism Program Council celebrated its victory in receiving the Grand Student Quill in the Communication Training and Education Category for The Journ Project.
According to project adviser and Communication and Journalism Department Chair Artin Umali, the program was initially established by the program council as Camp Journ, a project that aimed to provide workshops and trainings for student journalists from DLSU-D and other schools.
In 2018, the project evolved into The Journ Project which expanded its reach and coverage to more senior high school students with the inclusion of a competition to encourage interest in the Broadcast Journalism program. It also included talks facilitated by DLSU-D alumni on the transition from campus journalism to real life media practice, making the topic more relatable to aspiring media practicioners.
The project is jointly funded by the Broadcast Journalism Program Council with support from the CJD.
Asked what the victory's takeaway is for the student participants and faculty, Umali said: "Let the students be creative to think about the projects they want to undertake and let them execute them. What's important is just be there for them to support and guide them in exploring their ideas."
Photo credit: Ivan Medina