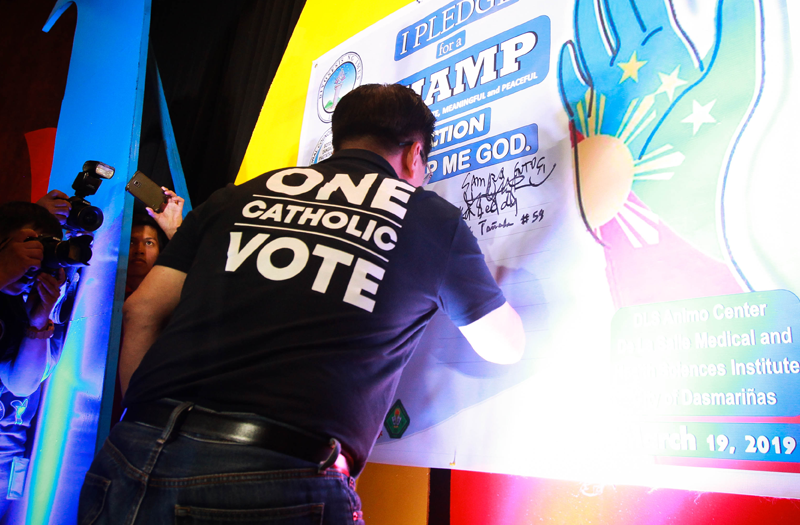 There is a strength in the youth vote, and this is a strength that De La Salle University-Dasmariñas seeks to channel positively. This is why Cavite's premiere university is leading the way to promote awareness among first time voters on the vital role they play in crafting the country's future.
Based on records from the Commission on Elections (Comelec), voters belonging to the 18-30 year old demographic account for a whopping 30 percent of registered voters for the May 13 polls. This could very well turn the tide for any candidate for national and local candidates seeking a mandate in their respective districts. This number also makes it crucial for the youth to be mindful of their choices.
"The voter awareness campaign aims to remind the electorate, especially the young voters, on their primary responsibility in electing qualified, accountable and responsible public leaders," Ma. Theresa D. Gochuico, advocacy coordinator of the Lasallian Community Development Center (LCDC) said.
She explained that in order to promote this advocacy, the Voter Awareness Campaign undertaken by the LCDC's Social Transformation through Advocacy and Reforms (STAR) partnered with De La Salle Health and Science Institute, the Parish Pastoral Council for Responsible Voting (PPCRV) as well as nearby high schools and colleges within Dasmariñas to encourage young voters to make informed choices when casting their ballot.
It comes as no surprise that DLSU-D would take an active role in promoting voter awareness since this is part of the human rights and democracy education campaign of the DLSP-LJPC. Prior to the #YouthVote Forum, the Boto Lasalyano, Sulong Pilipino event and the Candidates Forum attended by students, the University has been activating the community in political discourse through Human Rights and Democracy Exhibits and forums focused on the Youth in Nation Building as a lead up to the May polls.
Gochuico reported that the general response to the activities were positive, ranging from appreciation of Lasallian values behind actions, to expression of intention for participation. Where there were differences in stands on issues, members of the Lasallian community were enjoined to act according to faith and Lasallian identity.
Still, after May 13, there will be a lot left to do."Human rights and democracy education shall continue as the electorate faces the next phase of governance: accountability for electoral promises. This involves various means of effectively demanding the promises of the candidates during the campaign," she concluded.