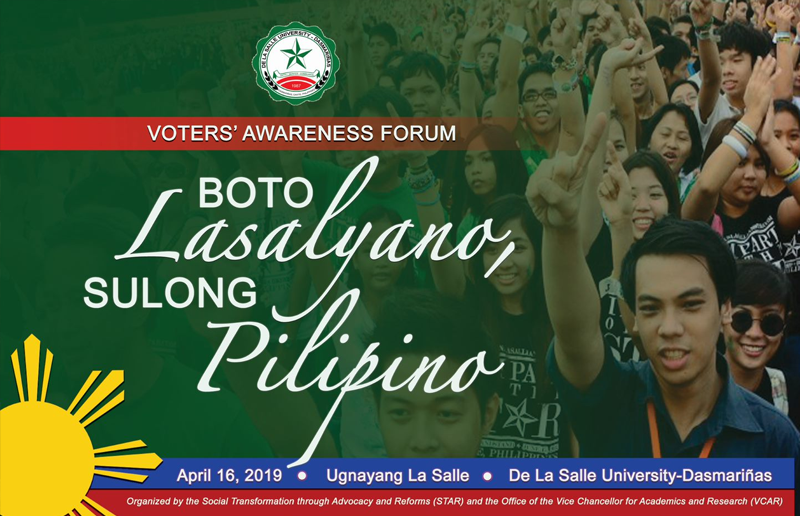 "Boto Lasalyano, Sulong Pilipino", a Voters' Education Seminar spearheaded by the Social Transformation through Advocacy and Reform (STAR) was successfully held at the Ugnayang La Salle last April 16 to respond to the Lasallian Justice and Peace Commission's call for each Lasallian school to conduct a voters' awareness activity to remind the electorate within the Lasallian community on their primary responsibility in electing qualified, accountable and responsible public leaders.
This voters' education seminar was carried out in the context of DLSU-D's mission integration initiatives in the curricular subjects of the university. Hence, the Voters' Education activity was offered to the prospective voting population of the university taking up the subjects Understanding the Self, Readings in History, Rizal, Mathematics, English (Purposive Communication), NSTP (Community-Based), Pagsasaling Teknikal and Diskurso sa Pilipino.
There were three "inputs" that constitute the voter's education seminar. The first two presented the roles of the Church and the Academe in our election history, especially in the call for active exercise of the right to vote. The third input presented the "Necessity of Voting".
A presentation of the results of the pre-seminar Mock Elections done with first year students was presented by Ms. Yasmine Kaye Esller, a BSY11 student. A post-seminar Mock Elections were also conducted to find out if there was a significant change in voter perspective. The mock elections were administered to all NSTP students and the sample ballots were collected and results were counted and tallied by students with Mathematics subject.
RELATED PAGE:
Boto Lasalyano, Sulong Pilipino (Voters' Awareness Forum) Event Gallery
Check out the full event gallery of recently concluded Boto Lasalyano, Sulong Pilipino (Voters' Awareness Forum).