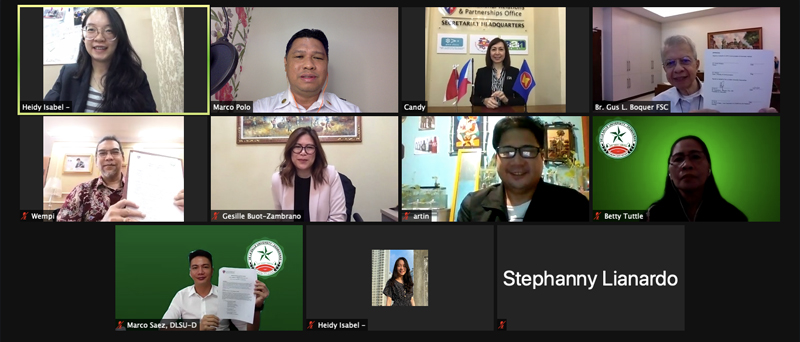 The internationalization efforts of De La Salle University-Dasmarinas (DLSU-D) continues despite the global COVID19 pandemic. DLSU-D recently signed an academic partnership with the London School of Public Relations (LSPR) Communication and Business Institute based in Jakarta, Indonesia.
The engagement involves faculty and student exchange, joint virtual classes and research and extension collaboration between the DLSU-D Communication and Journalism Department (CJD) and the LSPR Faculty of Communication.
In his message during the virtual signing of the memorandum of understanding, DLSU-D President and Chancellor Br. Gus Boquer FSC, EdD said that, "As an educational institution, DLSU-D strives to make lasting impressions by creating possibilities. One of the ways we do this is to expand our engagement with organizations and institutions that will complement our role as an educational institution and as a catalyst for social transformation."
The signing of the MOU was witnessed by Vice Chancellor for Academics and Research Dr. Marco Saez, College of Liberal Arts and Communication Dean Dr. Betty Tuttle, CJD Chair Mr. Artin Umali and University Advancement Director Mr. Marco Polo.
LSPR was represented by the Dean of the Faculty of Communication Dr. Wempi, and the Director of International Relations and Partnerships Office Ms. Candy Hernandez and other administrators from LSPR.
Established in 1992, LSPR is the leading graduate school of communication and the first inclusive higher education institute in Indonesia.
In his message Br Gus added that, "even as we live during this extraordinary time, we continue to try to make possibilities happen. Today's signing of this MOU is an effort to continue our academic exchange program with our ASEAN neighbors. Despite the travel limitations and various quarantine restrictions, we will be able to engage students and faculty members from both institutions through virtual classes, joint subject-based projects and other collaborative activities."