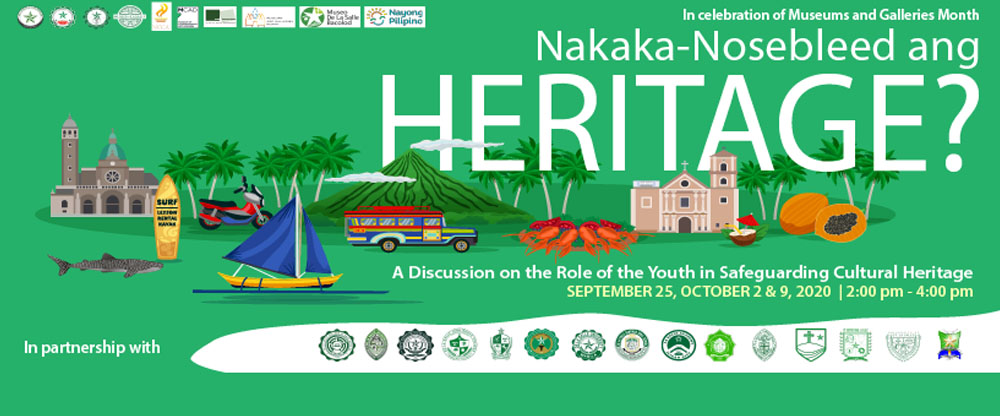 Museo de La Salle, in partnership with De La Salle Philippines, DLSU-D Senior High School, and the Nayong Pilipino Foundation will host a webinar on heritage to encourage and engage the youth on the advocacy.
The webinar, entitled "Nakaka-Nosebleed ang Heritage: A Discussion on the Role of the Youth in Safeguarding Cultural Heritage" seeks to educate the youth on what cultural heritage means and its implication on nation building.
The webinar also aims to empower the youth on their crucial role in safeguarding cultural heritage. Through discussions, the event also seeks to solicit inputs from the participants on fresh and innovative ideas with regard to heritage engagement.
"It our museum's mission to engage our youth on the safeguarding of our cultural heritage. This is an attempt to meet halfway, to share and teach what we know, and at the same time to solicit our audience's insights and inputs because after all, the youth of tomorrow will benefit from what we have safeguarded today" Museo de La Salle Director Cecille Gelicame said.
"This webinar is a good venue for our youth to learn more about our heritage. It also concretizes what we teach them in our classes about our culture and arts," SHS Academic Coordinator Jesser Eullo.
The webinar is scheduled for September 25 (all De La Salle Luzon schools), October 2 (USLS and SJIS) and October 9 (ASMC and Mindanao DLS schools).
Among the resource persons who will share their expertise are MDLS Director Cecille T. Gelicame for the topic What is Cultural Heritage? Atty. Lucille Karen Malilong will take charge of the discussion on Cultural Heritage and the Filipino Youth. Speaker Arvin Manuel Villalon will talk on Engaging the Youth on Heritage Advocacies.