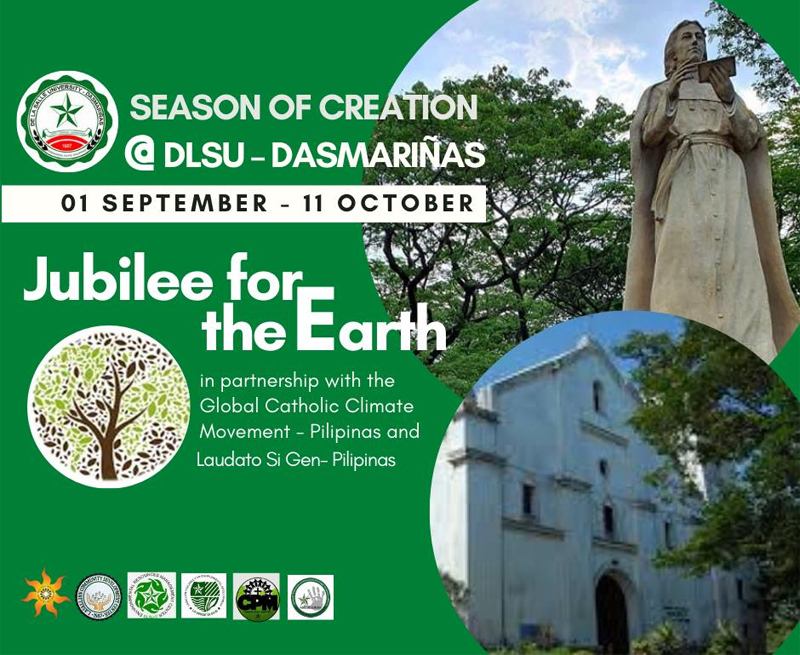 September 1 is a big day for all creations!
All is set for the Virtual Launch of Season of Creation Pilipinas 2020. Spearheaded by the Global Catholic Climate Movement – Pilipinas (GCCM-Pilipinas), the celebration is one of the many efforts of the organization in advancing Laudato Si, Pope Francis's Encyclical letter that highlights the need for mankind to care for our common home in these times of severe environmental crisis. Composed of more than 70 organizations, GCCM - Pilipinas is the official Philippine Chapter of Global Catholic Cimate Movement, duly recognized by Pope Francis.
The Season of Creation is an annual celebration of prayer - of praise and thanksgiving to God for the beauty and bounty of creation. It is also a time for more radical actions - for renewing our commitment to reverence and protect creation. Various Christian churches celebrate the Season of Creation also known as Creation Time between September 1 and October 4.
This year's celebration, with the theme, Jubilee for the Earth, seeks to highlight the World Day of Prayer for the Care of Creation, Virtual Walk for Creation, 40-Day Season of Creation Journey, and a series of webinars related to the celebration.
De La Salle University -Dasmarinas, through the collaborative efforts of Environmental Resource and Management Center (ERMAC), Lasallian Mission Office's (LMO) – Campus Ministry Office (CMO) and the Lasallian Community Development Center (LCDC), was tasked as one of the organizations that will spearhead the virtual launching ceremony of the celebration on September 1.
The virtual launch will be seen via the Official Facebook page of GCM Pilipinas https://www.facebook.com.gccm.pilipinas/, https://www.facebook.com.DlsuDCampusMinistry/ and from the official Facebook pages of the other members.
For the complete list of activities, please follow this link:https://drive.google.com/file/d/11QwmOVyJHCXTwkzaDKgXoQqp1eQWLpD2/view?usp=sharing