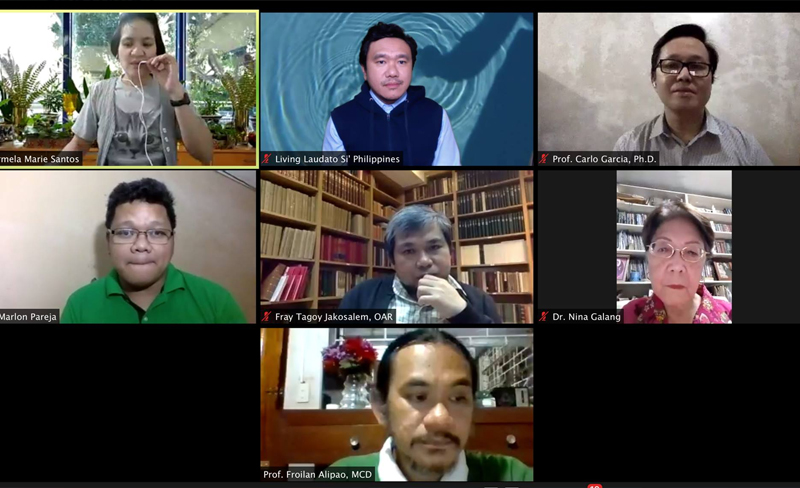 Living Laudato Si Philippines recently organized a series of webinars to celebrate the fifth anniversary of the Laudato Si movement. De La Salle University-Dasmariñas, in its capacity as a member of the Laudato Si Gen-Pilipinas, the local chapter of the Laudato Si Generation, participated in one of the sessions.
DLSU-D High School Vice Principal Marlon Pareja joined the discussion on ecological citizenship in the academic setting and talked about the University's experiences in its sustainability journey. Other panel members included representatives from Ateneo De Davao University, Miriam College, University of Santo Tomas, DLSU-D and the Recoletos schools through the University of San Jose Recoletos.
Pareja, who served as a former director of the University's Environmental Resource and Management Center (ERMAC) for many years, presented DLSU-D's paradigm on the Critical Pedagogy of Place where he cited the role of the university's systems and processes as part of the learning tools on environmental education, in addition to classroom learning. He also shared DLSU-D's best practices in solid waste management as one of the school's first major drives towards sustainability.
During his presentation, he said that the different awards the university received were an important mechanism in owning the efforts and the benefits of embracing sustainability in the school. He supported the commitment to create a framework on how schools can integrate Laudato Si's teachings to the students.
"The pandemic should provide us more the moral imperative to integrate Laudato Si in our academic and hidden curricula and DLSU-D should take the lead in sharing its experiences to other schools," he said.
It can be recalled that Laudato Si was a movement that stemmed from the second Encyclical of Pope Francis that enjoined the faithful to "care for our common home."