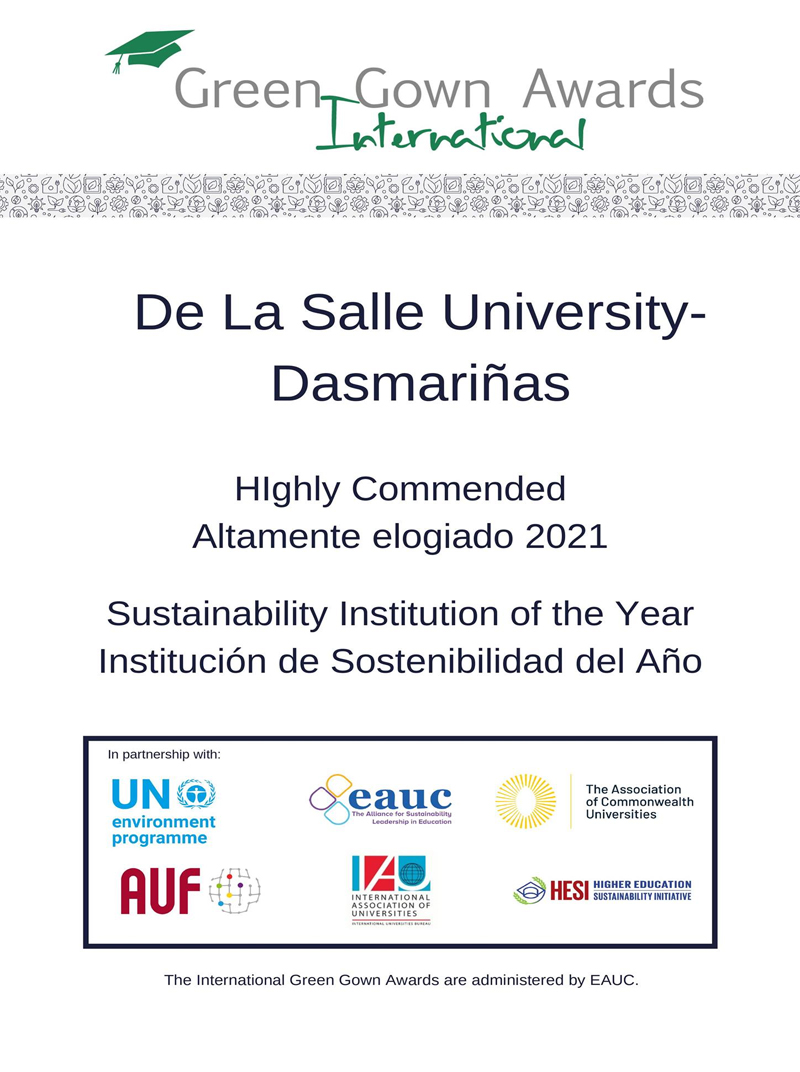 De La Salle University Dasmariñas (DLSU-D) bagged one of the top honors at the prestigious International Green Gown Awards 2021, proving that DLSU-D is not only the greenest Philippine university, but also the most sustainable academic institution in the country.
Among the finalists for the Sustainability Institution of the Year, DLSU-D was given the Highly Commended or Altemente Elogiado Award among the eight finalists for the category. The University was the only Asian university in the finals and the only university from the country to receive top honors during the ceremony.
"This is a great moment in the history of our planet to have such an event. We at De La Salle University-Dasmariñas in the Philippines, are committed to take care of our environment. We are committed to do all that we can to reach out to countries that can receive whatever moral support is possible, so that we can, together, take care of our planet Earth so that our environment is greener and healthier," University President Br. Gus Boquer said in his message.
"And this is what today is about. Everybody here is a winner. We are here not to get an award. We are here to espouse our commitment as one world that if we that if we take care of environment, the environment will take care of us," continued the Brother President.
After the awarding ceremony, Environment Resource Management Center Pollution Officer Jocelyn Luyon will represent DLSU-D in Virtual Climate Conference organized by the EAUC wherein the winners of the Sustainability Institution of the Year category will present best practices adopted by the institution.
Related Links
2021 Sustainability Institution of the Year - De La Salle University-Dasmariñas - Philippines
Sustainable DLSU-D: Making Green 'Greener' Delivering quality education, nurturing sustainable mindsets
Winner Brochure 2021
The International Green Gown Awards are supported by UN Environment and are open to any university or college across the world.