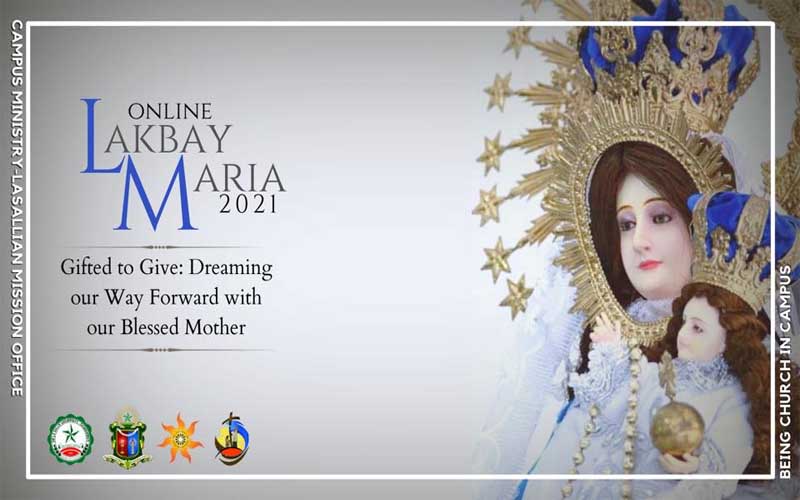 De La Salle University-Dasmarinas will once again celebrate the annual Lakbay Maria with the theme "Gifted to Give: Dreaming our Way Forward with Our Blessed Mother."
For the month of the Holy Rosary, the Lasallian community is invited to pray and reflect with our Blessed Mother, so as to respond with YES in giving witness to the faith. As she is "full of grace" who "went in haste" to be at the service of her cousin Elizabeth, we have also been "gifted to give" as we share the Word of God to all those we encounter, in becoming gifts freely given in love and generosity to those most in need.
Together with her, our Lasallian Family strives to dream as our way forward, in the hope that our community will recognize the many gifts we have received through our educational ministry. Despite the anxieties, struggles and fear that the global health pandemic has brought us, we hope that they will feel a deep sense of gratitude because of this. Our Blessed Mother teaches us to ponder God's Word in our hearts: "Take heart, it is I; do not be afraid." (Mark 6:51). Thus, we believe that we are being accompanied by Jesus, and because of this, there will always be an alternative, another way forward… that there is still hope.
From October 1-31, DLSU-D's different departments, offices, units and will pray the Holy Rosary daily, and contemplate the mysteries of salvation through the eyes of the Blessed Mother. The culmination event will commence through the Institutional Rosary Festival on October 31, 2021.