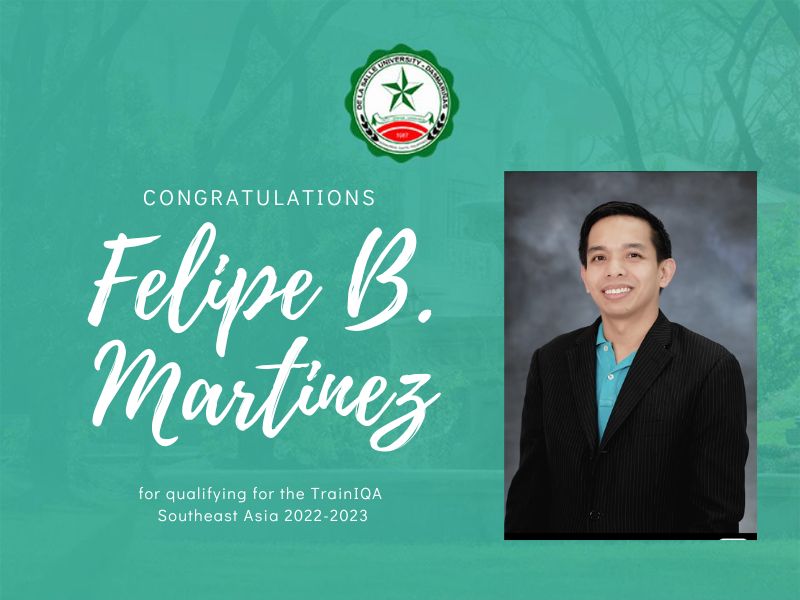 De La Salle University faculty member Felipe Martinez recently qualified for the TrainIQA for Southeast Asia 2022-2023.
TrainIQA is a project of prestigious organizations - the German Academic Exchange Service/ Deutscher Akademischer Austauschdienst (DAAD), the German Rectors' Conference (HRK) and the University of Potsdam (UP) in cooperation with its partnering institutions, the ASEAN Quality Assurance Network (AQAN),the ASEAN University Network (AUN), the Southeast Asian Ministers of Education Organization Regional Centre for Higher Education and Development (SEAMEO RHIED).
Martinez, who is currently designated as Quality Improvement Coordinator at the Herminia D. Torres Quality Assurance Office (HDT-QAO) submitted a proposal to the Asean QA competitive selection committee based on a research entitled State of Play of a University's Quality Assurance Programs: Gap Analysis and Way Forward which was conducted in DLSU-D by the senior management of quality assurance office.
This project action plan will address one of the key areas identified in the research that needs action which is the information management system wherein the existing system will be reviewed to determine the areas that needs improvement or updates for an efficient management system where reports can be generated in a timely manner. The project involves three phases: information awareness, capacity building, and evaluation.
The training will start in November 2022 which will cover the first workshop until December 2022. Workshop II will take place in May 2023. In between Workshop I and Workshop II and between Workshop II and Workshop III, there will also be an online phase of the program. Workshop III and the final conference will take place in October 2023.