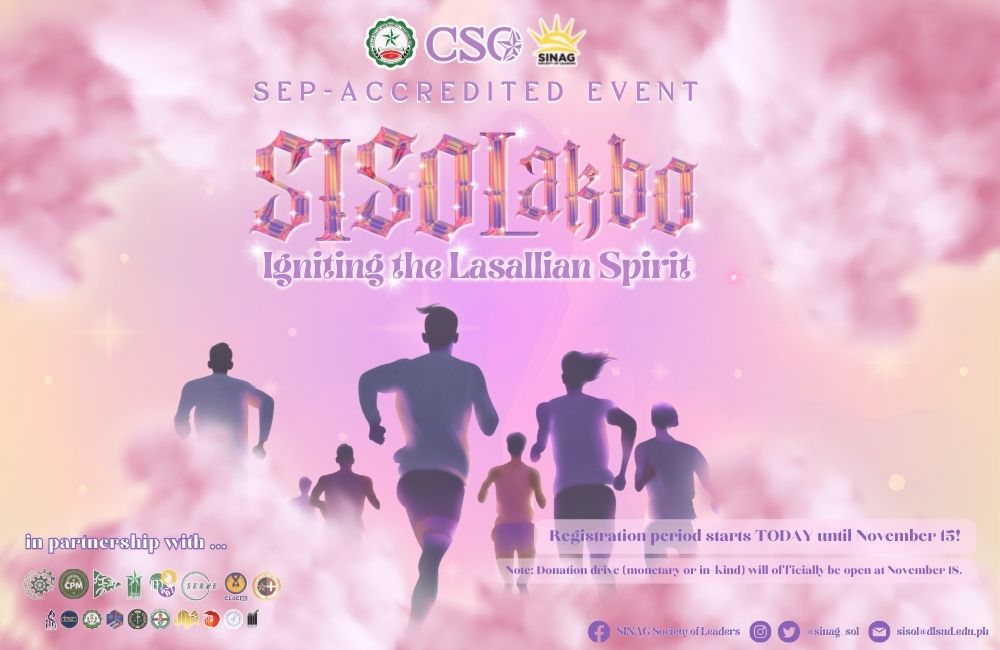 The Sinag Society of Leaders (SISOL) is staging a three part event entitled "SISOLakbo: Igniting the Lasallian Spirit" which seeks to unite the Lasallian community around the core values of faith, service, and unity.
The tri-fold activity will include a fun run, an outreach activity, and culminate in a spiritual activity.
The fun run, which will take place on November 18, will be exclusive to bona fide DLSU-D students from College and SHS, as well as DLSU-D faculty and staff. There will be a registration fee of PHP 250.00 each which will cover the fun run kit with a singlet, button pin, and race bib.
The proceeds from the fun run will be dedicated to three beneficiaries: Bahay Tuluyan ng mga Bata (Home for Girls), Bahay Pag-asa, and Our Lady's Pantry in an outreach activity that will happen on November 29.
A spiritual activity will also happen on the same day, and will focus on a talk to children about God's never-ending love, guidance, and compassion, especially in times of adversity.
"This tri-fold event aims to unite the Lasallian community around the core values of faith, service, and unity. Through the crowdfunding activity of conducting a fun run, participants contribute to impactful causes of support to the marginalized sectors of young women, and juveniles, and assistance to a community pantry. Meanwhile, the outreach activity extends compassion and service beyond the Lasallian community. The spiritual activity reaffirms shared principles, fostering connections of faith and prayer through healing, and spiritual growth. This comprehensive event strengthens community bonds, amplifies positive impact, and leaves a lasting legacy of unity, compassion, and commitment to the Lasallian mission," SISOL explained in their rationale for the event.