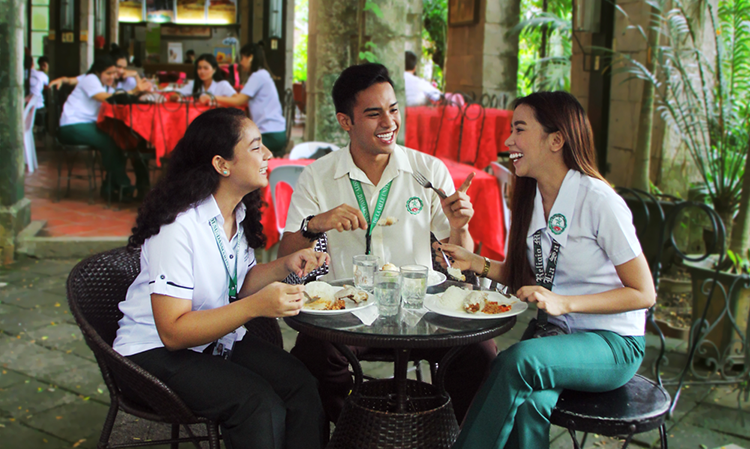 The University Food Square is situated in the center of the East and West Campus of De La Salle University-Dasmariñas to satisfy the food cravings of Lasallian faculty, students and staff. Its concessionaires are open as early as 6 am to serve breakfast and snacks while there are some that stay open until as late as 9 pm to cater to late night hunger pangs.
Other canteens can also be found in the East and West campus. The High School building also has a separate canteen which houses food stalls and kiosks for the students.
The UFS is managed by the Materials Reproduction Office and Concessionaires which also provides mimeographing and photocopying services to the academic community. It also supervises and monitors all canteen and photocopying concessionaires within the campus. The office is under the supervision of the Materials Management and Ancillary Services Office.
List of Concessionaires
PHOTOCOPY SERVICES
EBBY Copy Center
B. L. Antonio Photocopy
FOOD SERVICES
Master Bulgogi Food House
Happy Tummy
Nanay's Cuisine
Mila's Diner
Tapsiroyale
S-coop-S
Kulpy Chicken Counter
Eatchetera Canteen
TSJR Micro Chicken (Tempura Sam)
Jefcee's
Mint Bucks Cafe
Sure Tea Shop
Pleiades Food Service
Museo Cafe
Cafe Vinna
Waffle Time
McChillers
JHS Cafeteria
Oven Maid
Caville Enterprises (Rice Mix)
Darlynn's
Taho Vendor (2)
SHOPS
National Book Store
Animo Shop
Contact us: