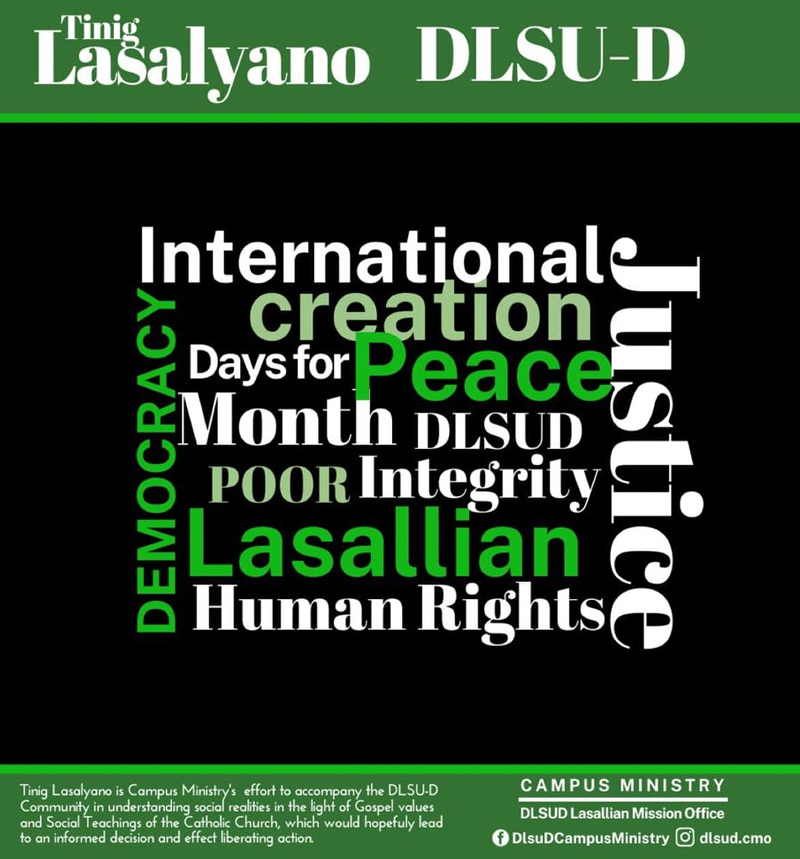 In keeping with our commitment to our educational mission of humane and Christian Education, our academic community will participate in the annual celebrations of the "International Lasallian Days for Peace" and "Human Rights and Democracy Month," on September 21 – October 21. In line with these, a Memorial Mass for the Victims of Martial Law will be held on September 21.
I CHOOSE PEACE is the official theme of the International Lasallian Days for Peace, spearheaded by the International Council of Young Lasallians. This year's celebration hopes "to encourage each one to continue to choose making our world a better place and to choose peace even in the simplest situations," (Young Lasallians).
On the other hand, the Lasallian Community Development Center, in collaboration with the DLSU-D Highschool Department, has prepared series of initiatives in line with the celebration of the Human Rights and Democracy Month.
"Believing in a God of goodness and compassion who wills the integral liberation and salvation of all, we as Lasallian Formators commit ourselves to educating and forming persons of faith and zeal who will make the saving compassion of God a living and effective reality in the lives of men and women today, especially those who are poor and vulnerable in society," (Lasallian Guiding Principles, p7.).