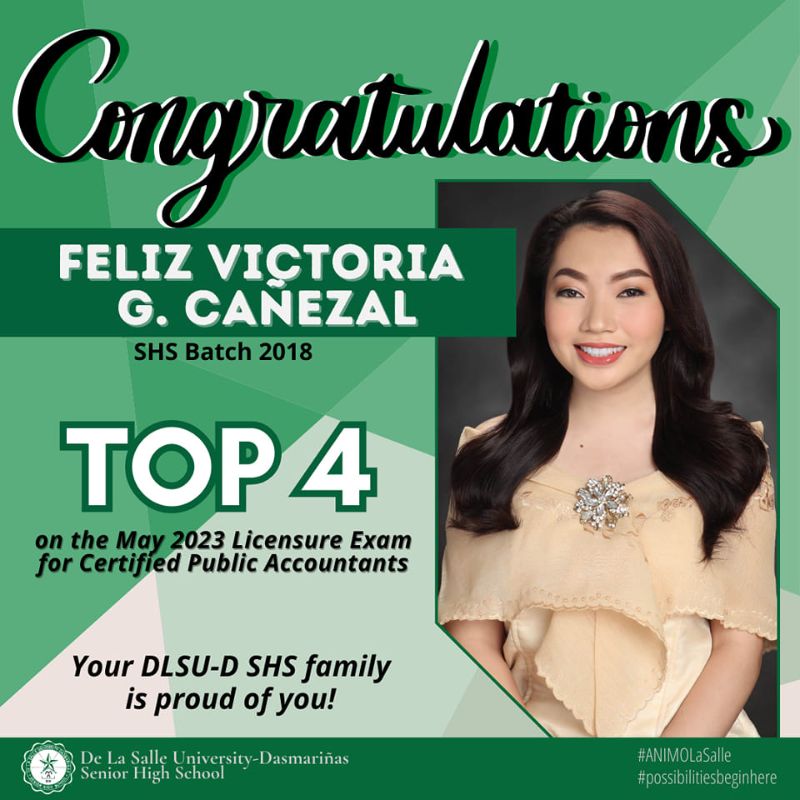 DLSU-D Senior High School Batch 2018 alumna Feliz Victoria G. Cañezal was among the topnotchers of the May 2023 Licensure Examination for Certified Public Accountants.
Cañezal graduated from DLSU-D SHS in 2018 under the Accountancy and Business Management strand with high honors.
Among the new batch of Certified Public Accountants, Cañezal impressively ranked in the Top 4 in the roster of passers.
"Feliz stood unwavering no matter how daunting the challenges given to her, proving time and again that perseverance knows no bounds. She took every difficulty as an opportunity for growth. Carrying the Lasallian commitment to excellence, coupled with an indomitable spirit, propelled her forward. Always punctual in the classroom, her dedication shone brightly, setting a remarkable example for their peers, as evidenced by the awards she received. She showed early manifestation of professionalism as she was constantly diligent in meeting deadlines and when it comes to submitting her work. Through her steadfast determination and unyielding discipline, it came as no surprise that Feliz made it to the top of the Licensure Examination for Certified Public Accountants," Norman Gonez, one of Cañezal's former teachers, said.
Animo, La Salle!