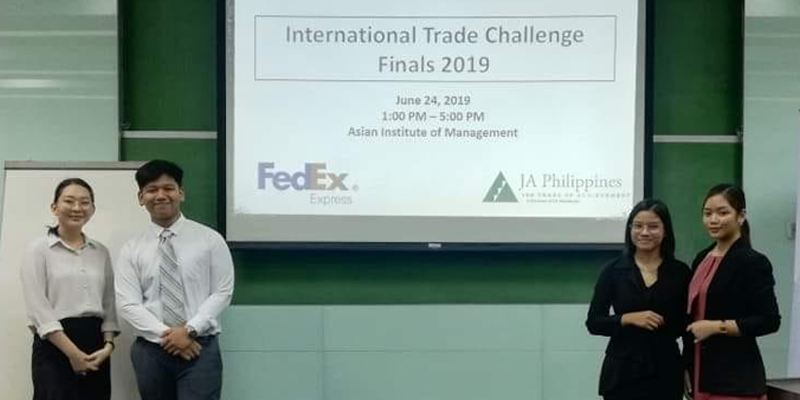 DLSU-D Senior High School (SHS) made it to the Top 10 finalists of the FedEx/Junior Achievement International Trade Challenge (FedEx/JAITC) 2019 held at Asian Institute Management, Makati City on June 15.
Four teams, composed of 8 Grade 11 Accountancy, Business and Management (ABM) students, represented DLSU-D SHS in the said competition, wherein two teams made it to the Top 10 finalists. More than 100 teams from 50 schools from all over the country joined the competition.
ABM faculty and coach Jem Salandanan, welcomed the achievement. "We were surprised that we were able to make it into the Top 10… since they also had other notable educational institutions participating in the competition along with (two) other La Salle schools," Salandanan said.
Assistant Director for SHS Marlon Pareja shared that the DLSU-D SHS showed its support to the participants by providing them mentors and other necessities for the competition.
"We provided them with very credible mentors coming from (the College of Business Administration, and Accountancy), (College of Liberal Arts and Communication), (College of Science and Computer Studies), and [DLSU-D] SHS to train them, (along) with transportation and other expenses needed during the competition," Pareja said.
Alyssa Sunga shared that she realized her capabilities and the value of competition upon joining FedEx/JAITC.
"[FedEx/JAITC] urges us to do better and it brings out the best in people. In that moment you will realize that you have more potential than what you thought. Joining this competition [made me discover] my capabilities," Sunga explained.
"I felt pressured bringing the name of the school with me, but we were all able to strive for the best with the help of many faculty members supporting us," teammate Juwon Jang stated. (Ella Lorraine Regudo, LEV staff reporter)