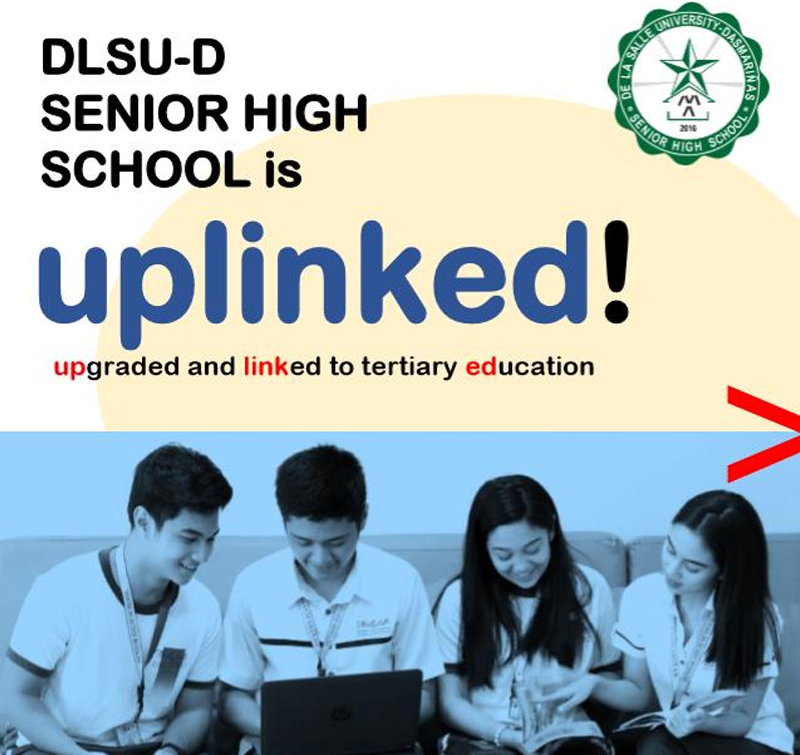 Starting next semester, DLSU-D Senior High School will be offering Uplinked! or Upgraded and Linked to Tertiary Education, which is part of the Ease-In Transition Program. The program is a concept developed in response to the K-12 implementation which has resulted in the transfer of some college subjects to SHS.
Through this innovative program, students may take electives of their choice, which would be credited to their tertiary requirements. The program seeks to provide SHS students an avenue to pursue their interests, while getting a head start for college.
Among the guidelines of the uplinked program include:
uplinked subjects comprise the college foundational subjects which will be credited specific to college course.
uplinked subjects shall be taught in the HS complex or college building by either invited college faculty or trained SHS teachers.
The college grading system shall be applied in the computation of final grades. Such grade is retained in the computation of the college GPA.
Crediting of uplinked subjects to college course requires a student to obtain a final grade (for one-semester subjects) or average final grade (for two-semester subjects) of at least 80%, otherwise s/he must take and pass the SCHEd (Scholastic Certification for Higher Education). SCHEd is being prepared by the college concerned and administered by DLSU-D SHS.
Enrolled college freshmen from DLSUD SHS may be granted a maximum of six (6) credited units.
Credited uplinked subject/s allows college freshmen to either enjoy fewer academic load, hence lower tuition fee.
"This program empowers our students to take up the subjects they are interested in as part of their electives. It gives them a chance to interact with other students who are also taking up the same subjects that are not necessarily part of their class. This broadens their horizons and at the same time, the subjects are credited towards their college elective requirements. This is the purpose of coming up with this program which we hope our students will appreciate," DLSU-D Vice Principal said in an interview.